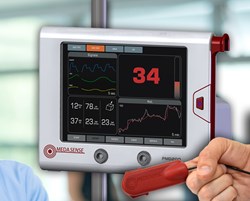 Using this information, physicians can adapt pain medications to patient-specific needs
Tel Aviv, Israel (PRWEB) August 20, 2013
Medasense Biometrics Ltd. announced today it has received U.S. patent approval for its novel system and multi-parameter method of assessing the pain level of patients in various states of consciousness. (U.S. Patent No. 8,512,240 – "System and Method for Pain Monitoring Using a Multidimensional Analysis of Physiological Signals.")
Medasense's innovative technology enables non-invasive, objective, pain monitoring by measuring multiple pain-related physiological parameters. The data is then integrated using state-of-the-art signal processing and pattern recognition algorithms to identify a patient's unique "signature of pain." Using this information, physicians can adapt pain medications to patient-specific needs to reduce suffering and improve treatment outcomes.
"Pain is now widely considered the fifth vital sign," says Galit Zuckerman, founder and CEO of Medasense. "Our easy-to-use system adds objective pain measurement to the array of technically advanced patient-monitoring tools already used in critical care, anesthesia and recovery, and similar environments."
Medasense's successfully completed clinical studies verify the system's ability to accurately measure pain response and demonstrate that it outperforms all existing pain indicators. "Receiving this patent approval is a milestone achievement for the Medasense team," says Zuckerman. "We look forward to providing physicians with a much better way to monitor and manage patient pain."
About Medasense
Medasense Biometrics Ltd. is an early-stage medical device company specializing in innovative pain monitoring solutions. The company's automated pain-monitoring system is designed to provide a continuous, highly accurate assessment of a patient's pain level. Medasense is financed and supported by both private investors and by Medoc Ltd., a prominent manufacturer of pain diagnostic medical systems. For more information, visit: http://www.medasense.com/.
CONTACT:
Nir Ben Israel
Medasense Biometric Ltd.
info(at)medasense(dot)com
Tel. 972-4-9038800