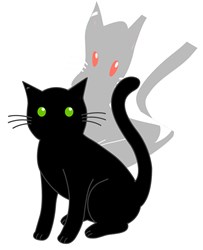 The cat is both alive and dead!
London (PRWEB UK) 20 August 2013
Treading playfully in the footsteps of Douglas Adams and Terry Pratchet, a new comedy novel explores the many worlds theory of renowned theoretical physicist, Erwin Schrodinger.
Novelist David Luddington presents an amusing but highly disturbing vision of out-of-control Celebrity Culture and a Federal Super Europe in his new novel, Schrodinger's Cottage, just released by Netherworld Books.
Austrian Physicist Erwin Schrodinger was famous for his thought experiment that placed a cat in a sealed box then created a quantum event which resulted in the paradox of the cat being both alive and dead at the same time. The state of the cat not being determined until it is viewed by an observer. The experiment gave rise to the Many Worlds Theory that meant all possible outcomes of an event actually exist but in different universes.
"I've always wanted to play with this idea," said David. "It's been done before in mainstream Science Fiction but I thought the comedy potential was huge."
A long term admirer of Douglas Adams and his slightly left-field way of viewing the world, David peoples his book with a plethora of oddball characters and quirky situations.
"Essentially, this is a story of one person dealing with a universe that's stopped playing by the rules," David continued. "A world where the Pope is a Spiritist, Cherie Blair Rules a Federal European Super State and Stephen Fry has a straight nose."
Schrodinger's Cottage is also currently available on Amazon for a limited period at a special offer launch price until the end of August.
Schrodinger's Cottage is published by Netherworld Books and is available as a paperback in all good bookshops and as an eBook in all popular formats.