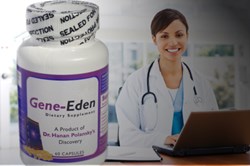 Can you imagine herpes attacking your sperm? I think men should be motivated to protect their sperm. They can do so by using Gene-Eden-VIR against the latent herpes virus. – Mike Evans, polyDNA
Rochester, NY (PRWEB) August 19, 2013
Genital Herpes (HSV-2, HSV-1) can reduce a man's sperm count. The virus infects the genital tract in men, resulting in a lower sperm count in the seminal fluid.
In fact, there is increasing evidence that the herpes virus plays a role in male infertility through its ability to damage a man's sperm. "Many previous studies revealed that HSV infections were related with abnormal sperm parameters (1)."
The bottom line according to the researchers is that "HSV, by affecting the most important semen parameter sperm count, plays an important role in male infertility. (1)"
Men should be aware that even if they don't have any physical symptoms, herpes may still be harming their ability to reproduce. These men should also be aware that even without physical symptoms, their sperm can infect their partners. The researchers reported that they "detected a considerable prevalence of HSV DNA in semen from asymptomatic infertile males (1)."
"Can you imagine herpes attacking your sperm? I think men should be motivated to protect their sperm. They can do so by using Gene-Eden-VIR against the latent herpes virus." – Mike Evans, polyDNA
Gene-Eden-VIR is designed to fight against the latent herpes virus. A recent post marketing clinical study showed that Gene-Eden-VIR is safe and effective. Up to 70% of those studied reported a decrease in viral symptoms. (2)
Each ingredient of Gene-Eden-VIR was chosen through a scientific approach. Scientists scanned thousands of scientific and medical papers published in various medical and scientific journals around the world to identify the safest, most effective natural ingredients that target the latent form of HSV. (3)
To learn more about Gene-Eden-VIR, visit http://www.gene-eden-kill-virus.com. All orders of Gene-Eden-VIR are completely confidential, and no information is shared or sold to any third party. Privacy is assured.
References:
(1) http://www.ncbi.nlm.nih.gov/pubmed/23554795
(2) http://www.cbcd.net/Gene-Eden-VIR-Clinical-Study.php
(3) http://www.buygeneeden.com/studies.php
polyDNA is a biotechnology company that develops dietary supplements using the unique scientific method developed by Dr. Hanan Polansky, which is based on Computer Intuition.
In addition to his unique scientific method, Dr. Polansky published the highly acclaimed scientific discovery, called Microcompetition with Foreign DNA. The discovery explains how foreign DNA fragments, and specifically, DNA of latent viruses, cause most major diseases.
polyDNA developed Gene-Eden-VIR , an antiviral natural remedy that helps the immune system kill latent viruses.