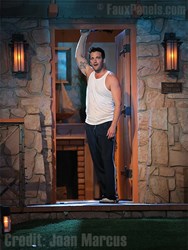 Faux stone works beautifully on outdoor stage sets.
Deer Park, NY (PRWEB) August 22, 2013
Faux stone siding panels from FauxPanels.com make their debut on the Public Theater's summer stage. The production of Shakepeare's "Love's Labour's Lost" is presented outdoors, making the faux stone a perfect solution.
"The Public Theater is a beloved New York City institution," said Steve Barron, president of Barron Designs, the Long Island-based parent company of FauxPanels.com. "Being a part of it in any small way is an honor."
Every summer The Public Theater, founded by the late Joseph Papp, stages classic plays by William Shakespeare outdoors in the Delacorte Theater at Central Park. Thanks to sponsors, tickets are free... which was part of Papp's goal to keep the arts accessible to everyone. The list of celebrities who have returned to New York for Public Theater Shakespearean productions is too long to list, but they return for both the prestige and to honor Papp's vision.
This production of "Love's Labour's Lost" was staged by Obie Award-winner Michael Friedman and two-time Tony Award-nominee Alex Timbers, reuniting for the first time since their Broadway production of "Bloody Bloody Andrew Jackson." To keep the production fresh, Timbers and Friedman turned the classic production into a musical.
The sets, designed by John Lee Beatty, evoke a summer resort, all the better to play out the story of four noblemen who swear off love while facing temptation from a princess and her companions. Much like the romantic comedies that the sets and styling evoke, misunderstandings are plentiful until the final happy ending.
Mr. Beatty chose Carlton Fieldstone siding panels in Sierra Sand to create the look of solid stone. Their rich texture, which comes from molds of real stone, works beautifully under stage lights, creating a look that faux painted flats cannot. Made of durable high density polyurethane, these siding panels can handle anything actors or Mother Nature can dish out.
Even better, the faux stone siding panels are easy to cut and install, which is essential considering the short turnaround time between the Public Theater's summer productions. Real stone would be entirely impractical due to its heavy weight and high cost.
"Stage productions are so much fun to work with and our panels provide the look of stone that they can't otherwise get," said Barron.
To learn more about the Public Theater go to http://www.publictheater.org/ .
FauxPanels.com is an industry leader due to its outstanding customer service and the best selection of realistic faux brick, stone and wood panels and columns on the market. Its products have been regularly featured on television shows such as "Celebrity Apprentice" and numerous appearances on "Extreme Makeover: Home Edition." FauxPanels.com is a subsidiary of Barron Designs Inc., a family-owned design and home improvement business operating since 1972. For more information, visit FauxPanels.com.