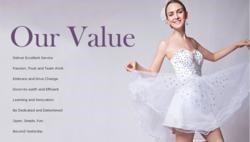 (PRWEB) August 19, 2013
MyDressCity is a worldwide women's dress company that has been serving over 10,000 customers. Today, MyDressCity introduced its special deals of Quinceanera dresses. These cheap Quinceanera dresses are available before August 31, 2013. For more information, please visit http://www.mydresscity.com
The company has been in the industry for many years. Since the company began offering its products and services to the public, they have been trying to find the best way to make the dresses affordable to all people. Now, all its Quinceanera dresses are available at greatly discounted prices (between $119 and $189).
"We aim to help customers become more beautiful, so we are very happy to launch the promotion. We are an award-winning dress company that connects the customers worldwide with top designers. All the materials we use are of top quality, and ladies don't need to pay thousands of dollars to look elegant," says, the CEO of MyDressCity.
With its 24/7 customer service, MyDressCity allows anyone to purchase its dresses with confidence. The company also allows a user to customize the size, color, and others. Custom service is 100% free for everyone.
About MyDressCity
MyDressCity specializes in the manufacture and retail of all kinds of women's dresses, like print Quinceanera dresses, short homecoming dresses, Muslim wedding dresses (http://www.mydresscity.com/short-homecoming-dresses_c98) and more. The company is a forward-thinking firm, and its goal is to make women feel confident, sexy, and contemporary.