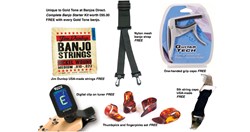 This comprehensive package of extras, included within the banjo purchase price, is a class-leader.
Norwich, Norfolk, UK (PRWEB UK) 19 August 2013
Banjos Direct, the UK-based specialist banjo shop, has announced a new banjo accessories and customer service package which the company claims sets new standards in the musical instrument sector.
Simon Middleton, founder and managing director of The Great British Banjo Company, which owns Banjos Direct, announced that Banjos Direct is to include a package of banjo accessories with a retail value of £65.00, free with every Gold Tone banjo purchased.
The accessory package includes: a digital clip-on tuner; a one-handed grip capo for the four main strings; a USA-made suspender capo for the 5th string; a Canadian-made nylon webbing banjo strap; a set of USA-made Jim Dunlop nickel banjo strings; plus a set of fingerpicks and a thumb pick.
Middleton explained: "Our research indicates that this comprehensive package of extras, included within the banjo purchase price, is a class-leader. We've created the package to give customers everything they need to get started playing their banjo straightaway, right out of the box, without any of the frustration or disappointment of realising that you've forgotten to buy a tuner or a capo for example.
"As soon as we launched the package, just a few days ago, customers have responded. It makes a great value and quality banjo like a Gold Tone in to a real competition-beater," said Middleton.
In addition to the package of accessories with Gold Tone banjos, the company is offering a class-leading 60 day return policy on all instruments, with free returns in the UK. And the standard 1 year guarantee on manufacturing faults has been extended to 2 years.
In addition, the company is offering free 'lifetime' advice on any aspect of banjos and related instruments, by email, to all customers.
"We've scoured the marketplace and we don't think anyone else who specialises in banjos and folk instruments offers a returns policy and guarantee this strong, let alone the free advice for life," said Mr Middleton.
Company Information:
Banjos Direct, based in Norwich, Norfolk, UK, is a brand of The Great British Banjo Company Limited, a small company owned and run by a group of family and friends.
The company works with local craftsmen as well as instrument manufacturers in other parts of Britain.
The business was founded by brand adviser, business author and musician Simon Middleton and has grown rapidly to become the UK's best known banjo specialist retailer and manufacturer.
In 2012, the company launched the Islander Ash Leaf banjo, hand-made in England, which has received glowing reviews from professional players in the UK and the USA. The business recently announced the development of The Shackleton Banjo, the first low-cost banjo to be manufactured in Britain for more than 60 years.
The company has launched a Kickstarter crowd-funding campaign to finance development of The Shackleton Banjo.
For further information, visit: http://www.thegreatbritishbanjocompany.com