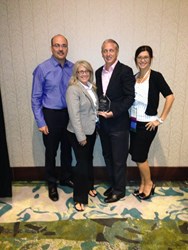 San Diego, Calfornia (PRWEB) August 21, 2013
Transaction Wireless, a leading service provider in electronic, mobile, social, and traditional B2C and B2B gift cards was presented with the coveted ACE Award for it's innovative B2B Solution by The Incentive Gift Card Council (IGCC), a Strategic Industry Group within the Incentive Marketing Association (IMA), at this year's annual IMA Summit held in Denver,
The ACE Award honors and recognizes excellence in gift card programs that provide innovative uses of prepaid cards in the business to business category. The Transaction Wireless B2B Solutionis an automated and intuitive web interface that allows TW clients to directly provide plastic, email and mobile gift cards to third party businesses, incentive companies, distributers, HR departments, etc.; looking to seamlessly distribute them for customer/employee incentives, loyalty rewards, acquisition programs, promotions and more. It includes an electronic application to automate registration of potential B2B customers which then feeds into our robust backend portal for account review and setup which takes seconds to complete. Once the account is approved and setup, the process is truly self service and the new B2B customer can log into the account 24/7.
The program was judged on several key factors including: strategy; creativity; execution; and program results. The Ace Award recognizes and showcases IGCC members and their clients for their exemplary gift card programs and practices. This award was modeled after the IMA's "Circle of Excellence" Award.
"It is truly an honor to be recognized for the Ace Award by the IGCC. This award symbolizes the hard work, dedication, and passion from our entire team, who are the backbone of Transaction Wireless. Our partners, who execute on our platform flawlessly and of course or clients, who push us with creativity and help fuel our passion everyday. We wouldn't be here if it wasn't for each of them", says, Thomas Niedbalski, SVP of Transaction Wireless, who accepted the award on behalf of the company.
About Transaction Wireless
Transaction Wireless is the leading provider of innovative digital gift card solutions in the industry. Since 2006, Transaction Wireless has been dedicated to helping retailers and partners transform their traditional gift card business to meet the ever-changing demands of today's digital consumer. Transaction Wireless has worked with more than 150 brands to offer the most innovative, versatile PCI Level 1 compliant B2C and B2B gift card and integrated marketing capabilities in the industry, allowing clients to quickly deploy, acquire customers, build loyalty, and grow their bottom line. Transaction Wireless' patented platform enables retailers to easily connect and intelligently engage with consumers through multiple channels, such as online, mobile, social, and more, all while providing the best in security, privacy, and customer support. Transaction Wireless is trusted by some of the biggest brands in retail such as American Eagle Outfitters, Applebee's, Boston Market, Buca di Beppo, Buckle, Buffalo Wild Wings, California Pizza Kitchen, Darden Restaurants, Domino's Pizza, Fandango, Groupon, Overstock.com, Red Robin, SpaFinder Wellness, Sport Chalet, and more.
About the Incentive Gift Card Council
The Incentive Gift Card Council is a strategic industry group within the Incentive Marketing Association. The IGCC educates the incentive marketplace and the corporate community on the benefits of gift cards, including choice, value and service, and other key attributes recipients say that they want their awards to have. For more information, please visit http://www.usegiftcards.org.
About the Incentive Marketing Association
Business improves when employees and customers are recognized, rewarded, and engaged through effectively structured programs with defined goals and proven returns. The Incentive Marketing Association (IMA) is comprised of the companies who are leaders in the incentive industry. IMA provides education, resources and research to promote the use of incentive programs to the business community and is the umbrella organization for the Global Incentive Council (GIC), the Incentive Gift Card Council (IGCC), the Incentive Manufacturers & Representatives Alliance (IMRA), the Incentive Travel Council, the Performance Improvement Council, the Promotional Products Provider Council, the Recognition Council, IMA-Australia Council, IMA-Canada Council and IMA-Europe Council. More information about IMA and the incentive marketplace is available at http://www.incentivemarketing.org