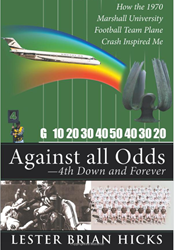 ATLANTA –
(PRWEB) August 20, 2013 -- In a tragedy mourned nationwide, the 1970s crash of Southern Airways Flight 932 killed 75 people, including Marshall University's entire varsity football program. Author Lester Hicks tells how the crash affected him in his new book, "Against All Odds: 4th Down and Forever."
Hicks was one of an eclectic group of athletes recruited from the junior varsity, other sports and various schools, to restore the university's crippled football program.
Hicks is no stranger to adverse circumstances. As the 12th child of uneducated sharecroppers, football was his only escape from an impoverished life. As a young man attending college, Hicks struggled with suicidal thoughts and depression.
His life, and the life of thousands of others, changed on that tragic November day. Hicks shares his journey and the journey of the Marshall University Thundering Herd in his new memoir, "Against All Odds: 4th Down and Forever."
Hicks can speak to many topics, including:

The years following the 1970 tragedy
Overcoming poverty and depression with football
The courage needed to bring yourself from the brink of suicide
Developing as a well-rounded student-athlete
Football lessons on and off the field
For more information, visit Amazon, Barnes & Noble and AuthorHouse
"Against All Odds: 4th Down and Forever"
By Lester Hicks
ISBN: 978-1-48173-712-8
Available in dust jacket hardcover and softcover formats
About the author
Lester Hicks earned an associate of arts degree from Ellsworth Community College and a bachelor of arts and a master of science degree from Marshall University. Hicks, a senior environmental safety engineer, has been with Lockheed Martin Aeronautics Company for 28 years. Hicks serves as a mentor to troubled youth, teaches Sunday school, serves on the Cobb County Literacy Council to decrease the dropout rate and improve literacy in his county. Hicks maintains an emotional tie to Coach Lengyel, the program, and the university that did so much for his character and prepared him to touch the lives of others through service and mentoring. Hicks and his wife, Della, live in Powder Springs, Ga.
# # #