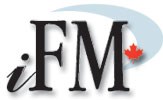 Toronto Ontario, Canada (PRWEB) August 20, 2013
A lot can go into creating a good responsive WordPress design, and just installing a few keywords into a web page's code, then submitting a website to the search engines does not guarantee good rankings. In fact, manual submission to search engines is not really encouraged by the search engines or seasoned SEO people as well.
Creative Director, Len Doren of IFM says, "We've been designing websites and hosting those sites for clients for over 13 years now. With the advent of responsive website design, as an example, if we could convey one valuable point to the general public, website designers and those that just dabble with internet technologies, it would be that the technology changes, and it changes real fast!. We have to stay in touch with those changes to ensure we give our clients an effective on-line presence to stay ahead of their competition."
Len adds, "When a prospective client comes to us to develop a new website for their business, they don't ask us to help them understand the technology and their options, just offer them solutions to their current site quality issues. However, although we manage many client sites, the technology available today can now allow clients to manage some parts of their web presence."
For good ranking for any website, on any search engine, here are some key pointers to follow:

Website layout – keep it simple. Make sure important information is "high" on the page and less important information is at, or "below the fold" (below the viewing portion of a website at bottom of your computer monitor screen).
Content – Make sure content on web page is "to-the-point", covers all or most aspects of the topic at hand, but does not run-on forever. Make sure pictures have the proper "alt tag" descriptions and the page font has an adequate contrast from the page background so it's easy to read.
Forget about keywords, and make sure to use "key phrases" on company web pages. Many people over-stuff the keyword meta tag code and page content, which could be perceived by some search engines as unnatural and poor rankings could be the result. So it's not so much the keyword tag that can be a negative thing, as very few search engines actually use that meta tag for ranking these days, but more the page content.
Ask for the sale! Make sure there are more than one "Call to Action" items on all site pages which lead visitors to sales page or at least a contact page.
•Lastly – all search engines have "guideline" pages. It doesn't matter if it's Google, Bing or any other engine – they all have guidelines. If the site owner is managing the website, read those guidelines. Otherwise have the site developer or manager read those guidelines to make sure all is well.
In Front Media designs Responsive WordPress websites and also offers Social Media Optimizing, Search Engine Optimization and standard Web Design services. For more information visit IFM at http://www.ifm.ca.