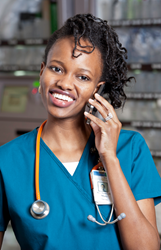 "Voalte is the best thing we have ever done for our nurses at this facility," said Carl Josehart, CEO of TIRR Memorial Hermann.
SARASOTA, Fla (PRWEB) August 20, 2013
Voalte, the leader in clinical communication technology, announced today that TIRR Memorial Hermann, one of the nation's premiere rehabilitation and research centers, selected Voalte as its communication alternative of choice. TIRR Memorial Hermann is a nationally acknowledged rehabilitation hospital in Houston, most recently recognized for its role in the recovery of Arizona Congresswoman Gabrielle Giffords.
"As a leader in rehabilitative services, TIRR Memorial Hermann continues to search for ways to improve patient quality of care," said Trey Lauderdale, Founder and President of Voalte. "TIRR Memorial Hermann is the first rehabilitation hospital of its kind to install a fully integrated smartphone alternative that increases caregiver responsiveness, enhances care coordination and ultimately enriches the patient experience."
The Voalte One application allows TIRR Memorial Hermann staff to communicate instantly via high-definition voice calls, accept and reject alarms and alerts, and send and receive secure text messages—all on one device.
TIRR Memorial Hermann also installed Voalte Messenger, a desktop text messaging web client, to facilitate communication between stationary staff and Voalte One users. It reduces overhead paging, increases caregiver responsiveness and improves communication.
"Equipping our employees with one integrated communication solution has enabled our caregivers to significantly increase time by the bedside," said Carl Josehart, CEO of TIRR Memorial Hermann. "Voalte is the best thing we have ever done for our nurses at this facility."
In the initial deployment, TIRR Memorial Hermann installed Voalte One and Voalte Messenger hospital-wide to provide every nurse and clinician with a tool that enables effective communication.
About TIRR Memorial Hermann
TIRR Memorial Hermann is a 119-bed nonprofit rehabilitation hospital located in the Texas Medical Center in Houston. Founded in 1959, TIRR Memorial Hermann has been named one of "America's Best Hospitals" by U.S. News and World Report for 24 consecutive years. TIRR Memorial Hermann provides rehabilitation services for individuals with spinal cord injuries, brain injuries, strokes, amputations and neuromuscular disorders.
About Voalte
Voalte is the only company to provide a fully integrated and dependable clinical communication system that healthcare professionals want, enjoy and effectively use. Voalte products are designed to be intuitive, high-value, mission-critical applications running on the latest generation of touch-based smartphones. For more information, visit http://www.Voalte.com or call 941.312.2830.
###