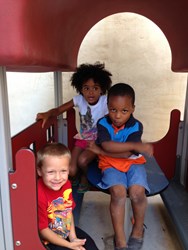 "Working on the Pratt House playground was a great way to give back to our community. We were honored to work with Volunteers of America Chesapeake and all the donors and other volunteers to make this project happen." Stephanie Sparks
Baltimore, MD (PRWEB) August 20, 2013
Pratt House in Baltimore City, Maryland was ready for a new, functional play area for their young residents to replace the dilapidated play area. With help from donors and labor supervision from Sparks @ Play LLC, Pratt House received a new playground. The Volunteers of America Chesapeake created this housing complex to help homeless families get back on their feet, offering case management, mental health counseling and referrals services, such as health care, substance abuse treatment, adult education and job training. Pratt House is home to 35 families and nearly 100 children who rely on Volunteers of America Chesapeake for shelter and supportive services.
Planning for the new playground began last fall, starting with cleanup of the existing playground. In addition, board member Donald Kann of Kann Partners held meetings with the young residents and created a wish list of new play equipment. Sparks @ Play was brought in to help select pieces that would provide a fun experience and still safely meet the restrictions presented by the small site.
Sparks @ Play is a full-service playground company based in Owings Mills, Maryland with public and private sector clients throughout Maryland, DC, and Virginia working with clients from planning and design through installation. Working on Pratt House was a way to give back to the community through a donation of labor and equipment to install the new playground.
Generous donations from Equity Management, The WR Grace Foundation, The Cecile D Carpenter Foundation, and a grant from Kaboom provided funding to get the project going. Volunteers from the Baltimore Convention Center cleared the site in December and worked diligently with Sparks @ Play supervisors on August 15 to build the new playground.
Ecstatic children, donors, volunteers and Baltimore City Councilman William "Pete" Welch were on hand to cut the ribbon. The lower level tot area was open for play the afternoon of August 15 and the upper play area opened on August 16th after safety surfacing was installed.