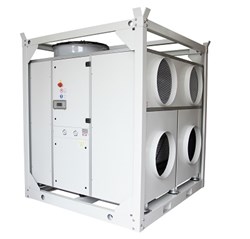 This new unit will appeal to industries with large volume cooling/heating requirements but who have previously had to hire multiple units to adequately control their climate.
(PRWEB UK) 20 August 2013
Andrews Sykes has today unveiled its highest capacity mobile air conditioning unit to date: the HPAC90. It delivers 90kW of cooling for a typical area of 2,000m squared, making it ideally suited for large spaces such as temporary structures & marquees, film sets and outside broadcasts. Its heat pump technology makes it equally suited for use as a large volume space heater unit
Previously, the largest capacity, mobile, air conditioner available from the company was a split model delivering 17kW of cooling but with this HPAC90 unit, Andrews Sykes has responded to customer demand for an ultra high capacity unit. It can be used to provide additional capacity during periods of extreme heat or used as a standalone unit when fixed systems are undergoing planned or emergency maintenance.
While some other companies have adapted roof top units into mobile units, these have a limited performance and are inevitably a form of compromise. Andrews Sykes designed a unit purpose built for the hire market where flexibility, performance and robustness are essential.
The unit can be positioned up to 50 metres away from the area requiring cooling (or heating) and it is this flexibility of configuration that makes it ideal for a number of applications. The unit is housed within a strong lifting frame which also incorporates fork lift pockets and lifting eyes for ease of transportation and positioning.
Specifications:

The HPAC90 has a maximum air flow of 15,000m3/hr (versus the PAC60 at 3,500m3/hr).
The unit weighs 1,500kg and measures (L x W x H) 2280 x 2030 x 2450 mm and has a maximum noise level of 75dBA @ 3 metres.
The model requires a 415 v, 84 amp, three phase power supply.
Controls: Fully Automatic Programmable Digital Control Panel - auto mode switches responsively between hot and cold.
Paul Wood, Managing Director, Andrews Sykes commented: "The HPAC90 follows the very successful introduction of the PAC60 and growing customer demand for larger units. This arises from the increased cooling loads associated with workplace technology and increasing customer expectations in a wide variety of settings, especially temporary structures at events.
"This new unit represents a strategic investment in our fleet and will appeal to industries with large volume cooling/heating requirements but who have previously had to hire multiple units to adequately control their climate. For example, the events sector wants flexibility of heating and cooling at various times of day including 'round the clock use' given what are increasingly unpredictable prevailing climatic conditions.
"The HPAC90 complements our comprehensive range of chillers from 50kw to 750kw along with air handlers for cooling applications. It is allied to customers in a growing niche who have a requirement for cooling and air handling in one unit.
"Depending on the success of the new unit, we will be looking to develop a more extensive range of bigger capacity units once our customers become familiar with what is a highly innovative move.
"We have also added this unit to our hire fleet in Holland, Belgium, Italy and The UAE."
For more information on the HPAC90, visit http://www.andrews-sykes.com.
Notes to editors
Andrews Sykes is the UK's largest specialist hire company with operations in Europe and the Middle East. With over 30 depots and hire centres in the UK alone and 500 dedicated employees worldwide, the company has over 40 years experience in the hire, sale, installation and maintenance of all types of comfort cooling, air conditioning, heating, temperature control and ventilation systems. It serves virtually all industry sectors from small businesses to multi-site operations and international corporations across building and construction companies, industry, retail, banking and finance, leisure and hospitality, facilities management, manufacturing, utilities, oil and chemicals, government, healthcare, the armed forces and emergency services.