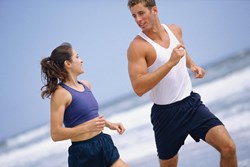 (PRWEB UK) 19 August 2013
Puregym based in Milton Keynes conducted a survey and found that once people have been in a relationship for a year, the amount of exercise they do declines. A feeble 16% of people who have been in a relationship for one to three years exercise twice a week. For those that have been in a relationship for three to six years, the percentage drops to just 5%. As a result of their findings, Puregym are therefore offering a 50% joining fee discount for a limited time in the hope that more couples will join the gym and exercise more. This particular chain of gyms open their doors 7 days a week, 24 hours a day to make it easier for people to fit exercise in to their busy lifestyles. Some might ask who goes to the gym at 2am in the morning? Fortunately, Gymkit UK have an alternative.
Gymkit UK are one of Europe's leading gym equipment suppliers. It is their aim to help people set up home gyms in an affordable way. They believe that having fitness equipment at the home makes it far more convenient for people to exercise regularly whilst avoiding expensive gym memberships and travel costs. Gymkit UK have been trading for nearly 13 years now and they have found the home gym route to be increasingly popular. They are one of the few companies who have benefited from the UK's struggling economy as the population as a whole are looking for ways to cut living costs.
Nicole Saunders, Gymkit employee had the following to say regarding Puregym's interesting study; "The results of this study don't really surprise me to be honest. I guess the longer you are in a relationship, the less concerned you are about your body image as you hope that your partner will love you anyway. I think there are other reasons too. If it's a choice between going home to your partner to snuggle on the sofa and watch a DVD rather than going to the gym for a couple of hours I know which I would choose. That's the good thing about having gym equipment at home, you could exercise together and motivate one another."
Gymkit UK provide a wide range of fitness equipment though their most popular items include treadmills, cross trainers, exercise bikes and rowing machines.
If you are an individual or business looking to buy or sell commercial gym equipment, then please contact Gymkit UK on 01733 205551 or visit their website (http://www.gymkituk.com). Alternatively, they have a showroom open to the public 5 days a week which can be found in Whittlesey, Cambridgeshire.
Find us on Google +1