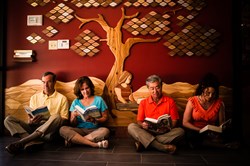 Best Places to Retire in Tennessee
Knoxville, TN (PRWEB) August 19, 2013
A good book is a quick trip to a whole new world for those looking for an escape. One of the best places to retire in Tennessee now offers residents an even better getaway adventure with a whole variety of books to devour. Tellico Village, recently built a new library for property owners and residents in the surrounding Eastern Tennessee lake communities. The library is one of many successful achievements initiated by The Villagers adding to the quality of life living at Tellico Village.
On April 20, 2013, Tellico Village introduced their shiny new building to a crowd of 150 people and a list of keynote speakers like Mayer Herron and Representative Matlock. The social clubs at Tellico Village were overjoyed with appreciation. Chris Miller represented the GFWC Tellico Village Women's Club who contributed $4,075 towards this year's Children and Adult Summer Reading Program.
The Children and Adult Summer Reading Program sparked plenty of interest within the Eastern Tennessee lake communities and city of Loudon Tennessee. Along with the countless choices of social clubs at Tellico Village, the community has added first class educational activities to the list. The children's reading program continued on its second season and taught the young bookworms about the earth, plants and provided an interactive exercise to demonstrate the germination process of a plant.
2013 is the start of the adult reading program at the Tellico Village library. The most recent programs Lincoln/Jefferson: Contributions to Emancipation was a hit in the community. Other successful programs like Photography Appreciation and the upcoming workshop, Reader's Theatre attracted attention from the community and social clubs at Tellico Village.
Other events hosted by the new library this year include the 19th Annual Used Book Sale. This year, Tellico Village library has already received 35,000 books. Some special donations included books from the Mears Family collection as well as autographed editions from renowned athletes that increased profits for the community library.
The comradery and united interest in education and learning is one of many reasons why Tellico Village has become one of the best places to retire in Tennessee. Potential residents are taken aback with the beauty of the Great Smoky Mountains and Tellico lake views, but the additional perks of a new library are wonderful for everyone in Loudon. Tellico Village stands out from other Eastern Tennessee lake communities with its award winning golf courses, upscale Wellness Center and private Yacht Club. Villagers and their guests can enjoy their choice of four clubhouses to organize events and host special social club activities. For families and retirees looking to entertain in the great outdoors, Tellico Village offers a fantastic Family Park and Beach Pavillion.
About Real Estate Scorecard
Real Estate Scorecard writes unbiased real estate reviews providing in-depth information about popular gated communities in Florida, Georgia, North Carolina, South Carolina and Tennessee, all in an effort to help people discover where to retire in the Southeast.
Website: http://realestatescorecard.com