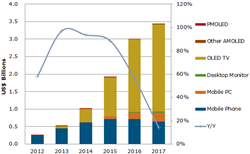 The introduction of OLED TVs will result in rapid growth in the market for OLED materials.
Santa Clara, CA (PRWEB) August 19, 2013
Growing demand from large TV panels is expected to increase OLED material revenues at a compound annual growth rate of 67% through 2017, even as material revenue from mobile phones slows after 2014. According to the Quarterly OLED Materials Report from NPD DisplaySearch, revenues from organic materials used in the emission and common layers of OLED displays are forecasted to reach $530 million in 2013 and grow to $3.4 billion by 2017. The growing importance of OLED materials was highlighted by the August 9, 2013 announcement that Samsung, the leading OLED panel manufacturer, was acquiring Novaled AG, a developer of common-layer OLED materials.
Until recently, active-matrix organic light-emitting diode (AMOLED) displays have mainly been used in mobile phones, but AMOLED display manufacturers are now starting to make inroads into TVs, tablet PCs, and other large-area display applications. OLED TV unit shipments are expected to remain modest at less than a million units in 2014 and only reaching 10 million after 2017, when they will account for 10% of total OLED panel shipments. However, on an area basis, OLED TV panels are expected to account for 17% of the OLED display materials market in 2014 and will exceed the share of mobile phone panels by 2016.
"The large size of TV panels will result in OLED display area growing quickly through 2017," noted Jimmy Kim, senior analyst for NPD DisplaySearch. "The demand for materials in the emission, common, and other OLED layers is proportional to the area of the panels; furthermore, the low yield rates for OLED TV panel manufacturing means that the consumption of raw materials is further increased; thus, the introduction of OLED TVs will result in rapid growth in the market for OLED materials."
The NPD DisplaySearch Quarterly OLED Materials Report provides demand and revenue forecasts for OLED materials. It also provides critical analysis on industry activities, such as maker status changes, supply chain movements, and IP updates. For more information about the report, please contact Charles Camaroto at 1.888.436.7673 or 1.516.625.2452, e-mail contact(at)displaysearch(dot)com or contact your regional NPD DisplaySearch office in China, Japan, Korea or Taiwan for more information.
About NPD DisplaySearch
NPD DisplaySearch, part of The NPD Group, provides global market research and consulting specializing in the display supply chain, including trend information, forecasts and analyses developed by a global team of experienced analysts with extensive industry knowledge. NPD DisplaySearch supply chain expertise complements sell-through information from The NPD Group, thereby providing a true end-to-end view of the display supply chain from materials and components to shipments of electronic devices with displays to sales of major consumer and commercial channels. For more information, visit us at http://www.displaysearch.com. Read our blog at http://www.displaysearchblog.com and follow us on Twitter at @DisplaySearch.
About The NPD Group, Inc.
The NPD Group provides global information and advisory services to drive better business decisions. By combining unique data assets with unmatched industry expertise, we help our clients track their markets, understand consumers, and drive profitable growth. Sectors covered include automotive, beauty, consumer electronics, entertainment, fashion, food/foodservice, home, luxury, mobile, office supplies, sports, technology, toys, and video games. For more information, visit http://www.npd.com and npdgroupblog.com. Follow us on Twitter: @npdtech and @npdgroup.