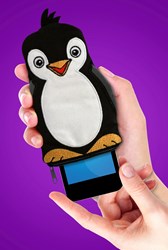 Branchburg, NJ (PRWEB) August 19, 2013
DigiPals screen cleaning mobile device cases have been selected for the Audition Round in Walmart's "Get On The Shelf" Competition. The multi-stage contest gives inventors, entrepreneurs and small businesses the opportunity to have their product sold in through Walmart.com, and the Grand Champion will be in Walmart stores across the country.
In the Audition Round, online voting will help demonstrate Get On The Shelf judges public support for Digipals, and give this fun and new way to care for mobile devices a chance to move on in the competition. Created by Falcon Safety Products Inc., the makers of the Dust-Off® brand of computer/ personal electronic cleaning products, DigiPals hug Smartphones and MP3 players in a layer of soft microfiber cloth, protecting kid's devices against scratches and safely ridding screens of fingerprints and dirt.
Available in four adorable animal characters, Monkey, Owl, Turtle and Penguin, these mobile device companions feature a microfiber compartment fitted for most Smartphones, MP3 players and small point-and-a-shoot cameras on the market today. The unique microfiber material allows kids to clean their screens without the use of any chemicals, and the material does not leave behind dust, lint or scratches—a common problem with most cleaning methods. While securely housed in the DigiPal with its zipper closure, users can clean their device's screen by gently rubbing the DigiPal over the screen. The mobile device companions also features an additional zippered compartment ideal for carrying kids' essentials including school IDs, money, earbuds or lip balm. While designed with kids in mind, parents and teens will love cleaning and protecting their mobile electronics with the device companions too.
DigiPals feature fun and trendy animal designs kids will want to show off to all their friends. The mobile device companions are the ideal accessory for protecting children's device in school bags, sports bags and purses, shielding phones and music players from kid's hectic lives. DigiPals are machine washable to ensure users will continually be able to cuddle and clean their mobile device screens for years to come.
Voting for the Get On Shelf competition is open now to September 2nd. Participants may vote once daily and need a Facebook account in order to vote. To vote for DigiPals, please click here. For more information, please visit http://www.digipalsusa.com or like us on Facebook at http://www.Facebook.com/Digipals.
About Falcon Safety Products Inc.
Founded in 1953, Falcon Safety Products Inc. is a privately held corporation headquartered in Branchburg, New Jersey. A world leader in compressed-gas technology, Falcon manufactures a diverse line of products including the Dust Off® brand of computer / personal electronics cleaning products and signal horns for the marine, sport and safety markets. For additional information, please contact Falcon Safety Products Inc. at 908 707 4900 or visit http://www.falconsafety.com/.