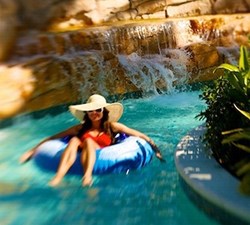 We love people who post, tweet, Instagram, Vine. Not only do we engage them through our various hotel and brand accounts, we reward them in real life, Eric Gavin, Regional Vice President of Sales & Marketing, Benchmark Resorts & Hotels
(PRWEB) August 20, 2013
"In 2013, anyone can have an outstanding travel experience without breaking the bank, just by following simple savings strategies," says Eric Gavin, Regional Vice President of Sales & Marketing for Benchmark Resorts & Hotels®. And he knows. Gavin has held executive positions at several leading hospitality brands including Morgans, Loews and more. Gavin suggests that everyone can get more out of their travel dollar by following these three simple tips.
Travel during the week – "For leisure hotels, there's really a need to fill those mid-week rooms. This allows for wiggle room when it comes to rates and value added packages," states Gavin. "Three of our Personal Luxury Resorts & Hotels® in Florida, offer considerable savings on accommodations midweek, with promotional offers for amenities and value added on top. It's a win/win."

The Take it Off midweek getaway at Naples Bay Resort offers: Discounted accommodations, $99 Boat Rental; 25% savings on Food and Beverage, Spa Services, Recreational Services (Paddle Boards, Kayaks, etc.) As a bonus, the resort also offers a $25 resort credit per room and a bottle of wine if you book more than one room, so bring friends. (http://www.naplesbayresort.com/deals/take-it-off)
Costa d'Este Beach Resort & Spa In Vero Beach, wants mid-weekers to Play Hooky at their resort. Available Sunday through Thursday, Play Hooky rates start at just $129 and the resort will write guests an excused absence note to take to their boss! (http://www.costadeste.com/florida_resortdeals/Trade-Secrets)
Marenas Beach Resort in Sunny Isles (North Miami Beach) thinks mid-week stays are the perfect time for some well-deserved play time. Savvy travelers will enjoy Bay View or Ocean Front Suite! Rates as low as 35% off on stays of two nights or more, Monday – Wednesday and $50 Resort Dining Credit during stay. (https://bookings.ihotelier.com/bookings.jsp?HotelID=73579&ProdID=517010&killcookie=1&LanguageID=1)
Be social -- "We love people who post, tweet, Instagram, Vine. Not only do we engage them through our various hotel and brand accounts, we reward them in real life," Gavin continues.
A traveler's KLOUT score equals their resort credit, with two –night stays now until December 8, 2013. This GOT KLOUT promotion is available at:
-The newly renovated, Villas of Grand Cypress Golf Resort in Orlando http://www.grandcypress.com/resort_deals/Klout-Perks ; the oceanfront Costa d'Este Beach Resort & Spa in Vero Beach and the ultra luxe ONE Bal Harbour Resort & Spa in Bal Habour.
"American Airlines offers something similar where registered fliers with a KLOUT score over 55 earn a free day pass to any of American's Admirals Club lounges around the world," Gavin remarks. "They don't even care if you're flying AA or not. It's a simple way to get more out of your travel dollar."
Join mailing lists -- "Joining a hotel or brand's email distribution list gives travelers VIP access to offers and special promotions," says Gavin. "We often distribute pre-sale rates, rewards and 'members only' value added elements to our mailing lists only." This can be seen at ONE Bal Harbour Resort & Spa where we are now offering $100 resort credit and a welcome cocktail for guests who sign up to receive the resort's emails http://www.onebalharbourresort.com/news_offers/ .
"In addition, most of our resorts in Florida are suite or villa accommodations, and "self catering" instead of eating out for every meal offers great savings opportunities," says Gavin. "As does traveling in shoulder season or in between high and low season often offers at least a 20% savings off rack rates."
# # #
About Personal Luxury Resorts & Hotels®
Personal Luxury Resorts & Hotels® includes unique hand-picked properties in spectacular U.S. destinations coast to coast. Each hotel and resort delivers personal luxury in a spirit true to its own distinctive locale, yet in keeping with the collection's shared mission. They represent a select portfolio of Benchmark Hospitality International®, which has been a leading US-based hospitality management company for over 30 years. Personal Luxury Resorts & Hotels is the preferred choice of guests who yearn for transformation over accommodation, customization over conformity, and inspiration over predictability. With Personal Luxury Resorts & Hotels, luxury is always personal. http://www.personalluxuryresortsandhotels.com . To become a fan on Facebook, visit http://www.facebook.com/PersonalLuxuryResortsandHotels , or follow us on Twitter at http://www.twitter.com/PersLuxResorts .