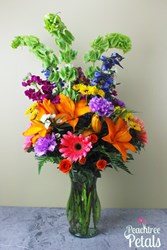 Atlanta, GA (PRWEB) August 20, 2013
Peachtree Petals, a leading Atlanta Florist and FTD Master Florist, announces its new next-day delivery of floral arrangements nationwide. The Atlanta florist makes the announcement in efforts to promote its new drop-ship program and officially market itself as a national floral provider. Peachtree Petals strives to be the best choice in floral arrangement and wedding floral services throughout Atlanta and the Metro-Atlanta area.
Peachtree Petals officially launched its next-day delivery service, in which customers can send flowers nationwide. Floral shoppers can enjoy a Peachtree Petals delivered right to their door for a flat rate of $9.99. The florist custom designs every arrangement that is shipped. The flowers are hand-tied together to keep the stems in place. Then, the flowers are placed within a Peachtree Petals designer box and shipped Fed Ex via next-day delivery. Upon arrival, their customer simply opens the box, fills their vase with water and preservative, cut the stems, and they're done. Peachtree Petal customers will be able to enjoy their beautiful arrangement for 5 to 7 days.
Customers are now able to enjoy and buy flowers online from Peachtree Petals wherever they are in the US. Peachtree Petals' very own floral designers have over 25 years of combined experience, perfecting their craftsmanship. The company has created its own signature brand of floral artisans that are described as original, modern and creative, complimented with stylish vases. The florist also has other original floral arrangements that are continually being added to its drop-ship program flowers to choose from. Customers can place their orders via phone or online, even if they desire to discuss their floral arrangement with an actual, live florist prior to shipping.
Peachtree Petals joins other well-known next-day delivery floral providers such as FTD, Teleflora, 1-800 Flowers, and ProFlowers. The florist's current client base, which has utilized their floral services within Georgia, can now send flowers online from Georgia, throughout the US. Peachtree Petals has established their new premium brand of floral bouquet product line, appealing to all markets, from individuals to large corporations. Peachtree Petals provides free same-day delivery within the Atlanta and Metro Atlanta area. This is one of their well-known competitive advantages within the floral industry, and free same-day delivery is standard with all of Peachtree Petal floral orders.
Peachtree Petals is a recognized leading florist able to meet any of your floral needs. From headquarters in Atlanta since 2011, Peachtree Petals provides national floral services from quality floral arrangements, wedding bouquets, wedding consultant, assorted gifts, and more. The Atlanta florist offers high-quality flowers with a standard free delivery of all bouquets in the Atlanta and Metro Atlanta areas. With over 25 years of experience, our floral designers create the most beautiful and stunning bouquets that continue to expand our list of satisfied customers nationwide.