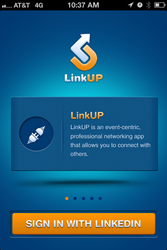 Chicago, IL (PRWEB) August 20, 2013
LinkUP LLC today launched LinkUP, a first of its kind, event-centric, professional networking app that allows users to connect with the right people at the right time and right place. LinkUP leverages the power of the LinkedIn network to allow users to see who is attending events and to connect with them directly within the app. Users can also promote events they are attending and share details of these events with their social networks. LinkUP is available as a free download in the Apple iTunes App Store.
"Networking can take place anywhere, from a twenty person lunch meeting to a 5,000 person conference. Knowing beforehand who will be attending the events you are attending allows you to come prepared and form connections faster," said Iqbal Brainch, LinkUP founder. "Professionals want the opportunity to maximize their time when attending an event, whether it's a trade show, alumni reunion, or educational conference. They want a simple way to connect with like-minded people. LinkUP allows them to do so."
LinkUP is fully integrated with social networks so users can share event details with their Facebook, LinkedIn, and Twitter networks. In addition, users can add event details directly to their mobile calendars.
Since LinkUP operates as an opt-in platform, it is a great solution for organizations such as universities that protect their alumni's privacy but are always looking for better ways to engage their constituents. "The University of Illinois has one of the largest alumni bases in the world. Illinois representation is found in countless industries and corporations globally, and we believe LinkUP will be a valuable tool for our alumni in creating an even stronger, more engaged Illini community. Illinois connections last for a lifetime, and by using LinkUP for many of our events, tighter and deeper bonds will be formed," said Matt Wszolek, Associate Director of Development and Corporate Sales, University of Illinois, Division of Intercollegiate Athletics.
More information about LinkUP is available at http://www.joinlinkup.com.