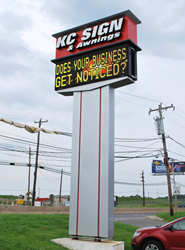 Aston, PA (PRWEB) August 20, 2013
KC Sign & Awnings is a full service, interior and exterior, signage provider with over 20 years of experience in the Mid-Atlantic Region. The corporate manufacturing facility is located approximately 15 miles southeast of Philadelphia bordering the PA, NJ, & DE state lines. Having started in a 2000 square foot building in Aston, PA with 3 employees, they now operate 3 locations that provide service to the PA, DE, NJ, and MD areas, with 25,000 square feet of manufacturing space at the corporate facility.
They felt it was time to solidify this landmark with a brand new main identification sign; to showcase their craftsmanship as well as demonstrate the advertising power of a LED display by their manufacturing partner, Vantage LED.
"Vantage LED provides a superior product compared to what is available in the market place," stated Joe Clark, VP of Regional Operations. "Their software is unmatched and their pricing allows us to be competitive in the market place."
The Clark family owns and operates the company and employs nearly 40 people. Bill Clark Sr., the owner, runs the day to day operations coordinating production and installations. The oldest son, Bill Clark Jr., is the VP of Sales responsible for the sales region located in and around the corporate offices. Joe Clark, VP of Regional Operations, over-sees the operation of the 2 branch offices as well as marketing. He also designs and sells signs in Chester County & Lancaster County in Pennsylvania, Northern Delaware & Northern Maryland. Steve Clark, the youngest son, is responsible for Northeast Philadelphia region and New Jersey.
The top of sign is a custom fabricated aluminum sign cabinet with decorative trim. The words 'KC Sign & Awnings' are individually illuminated channel letters with color changing LEDs. The two supporting poles are covered with a fabricated aluminum pole skirt with a silver metallic finish and the recessed areas feature RED led strip lighting for a red glow at night. Not including the LED display, all parts of the sign were fabricated in house at KC Sign & Awnings and designed by Joe Clark & Bill Clark. The LED display is a 16mm Phoenix™ Full Color Series display manufactured by Vantage LED in Corona, CA. The pixel matrix is 64 x 192 with Virtual Resolution technology.
Joe Clark adds, "Our partnership with Vantage LED has been top notch. Our sales rep Mike Prongué has always been there with fast turnaround on quotes and lead times with ordered signs."
KC Sign & Awnings services all types of customers from local companies to national and regional chains. Their commitment to providing high quality signage has enabled them to become one of the largest providers of all types of signage in the region. This dynamic new sign at their corporate manufacturing facility advertises the quality and breadth of services this company provides.