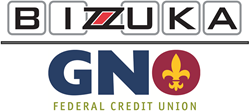 ...our focus was set squarely on [the client's] website and Internet marketing needs.
New Orleans, LA (PRWEB) August 21, 2013
Bizzuka, Louisiana's leading provider of web design and web-based communications solutions, is pleased to announce their client's recognition for excellent website design. The Greater New Orleans Federal Credit Union was honored at the Louisiana Credit Union League's Annual Convention, where it won Best Website in the second-largest asset category. The LCUL's Excellence in Marketing Awards are member-focused and exclusive to their industry.
"We are honored to be recognized for the LCUL Excellence in Marketing Best Website Award in our asset category," said GNO President & CEO Janet L. Sanders. "Websites are ongoing marketing ventures that we consider a primary tool for informing members, as well as potential members, of our services and providing them with the advantages of credit union membership."
Through its 13 years of operation and service to over 1,000 clients, Bizzuka has continually focused on work resulting in cost savings and more responsive marketing capabilities. The state's largest provider of websites for small-to-medium sized businesses, Bizzuka begins each project by identifying what objectives must be met for the client to consider the website a success.
"Our clients like GNOFCU and Jefferson Financial have expressed that third party providers simply didn't give them the flexibility or control to compete with larger, national financial institutions," offered Bizzuka Business Development Executive Jamie Foster. "GNOFCU needed an attractive, navigable website that allowed members easy access to all of the services they provide. Bizzuka considers their award for Best Website a reflection of our mutual achievement of this goal."
That sentiment rings true for Janet Sanders. "Our partnership with Bizzuka provides us with the foundation to successfully use our website as an effective marketing tool."
About Bizzuka
Bizzuka is the largest provider of websites in Louisiana, with over 800 active clients. The company's premier product, OnDeCC, (On Demand Content and Components), is a powerful, web-based content management system that gives small to medium-sized companies affordable access to the sophisticated features and capabilities of systems utilized by Fortune 500 companies. Additionally, the company creates mobile websites and mobile applications that help companies communicate more efficiently with their employees, prospects and customers.