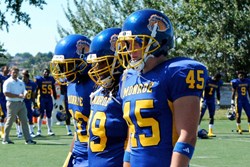 New Rochelle, NY (PRWEB) August 20, 2013
On August 10th, more than 200 athletes descended upon Monroe College's New Rochelle campus. Monroe's fall sports – football, men's and women's soccer, cross country, and women's volleyball – jumped into their season on Monday, giving their athletes one day to settle in and prepare for the practices and workouts to come.
"We are beyond excited," said Athletic Director Bert Shillingford. "We're bringing in some amazing athletes from all over the country – the world, in fact – along with the many local student-athletes that will compete for Monroe. We are looking forward to a great year."
For many of Monroe's coaches, preparing for the upcoming season is a well-known practice. But, for head coach Terry Karg, this is only the second season of Mustang football.
"We finished our first season with a 2-6 record, which may not seem so impressive to some. But for us, it's a building block for this upcoming season," explains Coach Karg. "These players have dedication and heart – they want to do the best they can. For what we lack in experience, we make up for in motivation and talent."
In men's soccer, Coach Marcus Dibernardo will be out to improve on last year's great regular season, which ended in a disappointing last-minute loss in the District final. They open their regular season on August 30 in North Carolina and come home to City Park on Friday, September 6.
Coach Jonathan Garbar has the reins of the women's soccer team for their second season in Division I and after having lost a heartbreaker in the District tournament in 2012, his Mustangs are set for a big season. They'll open at home in City Park against CCRI on August 31.
Monroe's women's volleyball team made the national tournament in 2012 and Coach Nephtali Delgado Reyes has an excellent recruiting class to add to some stellar returnees so that they can challenge for the national title in 2013.
"We are going to have an excellent team this year," Coach Delgado says. "We have so much talent with both our returning players and our new players. I'm excited to see them work together and progress as a team this season."
It will be tough for head coach Mark Goodman's cross country team to improve on last year, but that's what they're set to do. They had ten runners in the national cross country race in 2012 and they all ran record-setting times. This year, Monroe will be hosting its first ever cross country race, the Mustang Stampede, which will take place in the Bronx Ferry Point Park on August 30.