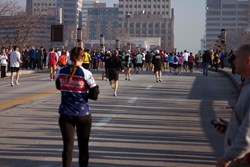 Harrisburg, Pennsylvania (PRWEB) August 21, 2013
The Merrill Lynch Harrisburg Half Marathon, held annually, will take place September 8, 2013. The mostly flat course starts and finishes on City Island while running along the scenic Riverfront Park in the downtown Harrisburg community. It's an ideal course that's friendly for runners of all abilities. Beginners enjoy the lack of elevation while more experienced runners strive for personal record times.
Like most 13.1-mile races across the county, the Harrisburg Half-Marathon has experienced tremendous growth over its existence. Last year's event had over 1,100 participants, which is 11x the size of the first ever field. It is quickly becoming one of the largest running events in Central Pennsylvania.
All proceeds benefit the youth and childcare programs at the Harrisburg YMCA, helping families receive affordable, yet high quality care for their kids.