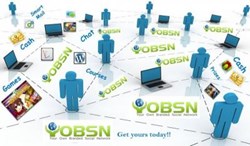 Social media spark a revelation that we, the people, have a voice, and through the democratization of content and ideas we can once again unite around common passions, inspire movements, and ignite change.
- Brian Solis
Henderson, NV (PRWEB) August 20, 2013
Smart Media's YOBSN Beta is now available at no cost to everyone worldwide. Not only is YOBSN the only major Social Network that allows its users to earn by doing what they already do online, but it also offers a long list of features not found on any other Social Network.
For example, YOBSN offers a full online University where anyone anywhere in the world has access to over 2,200 university level courses 24 hours a day at no cost. It also offers a full library of computer-related courses for those looking to improve their computer skills. There is a special video search system that searches for videos across the biggest platforms without taking the user away from the topic they were searching for, which saves time and keeps the user from being distracted unnecessarily.
YOBSN is also a private Social Network where only people who have been accepted as friends can see what has been posted by a user. When a friend comments on what another friend posts, it does not open that up for other friends to see it in the way other Social Networks do. It also has Smart Mail which is a new type of digital mail that is private and protected from the outside problems that normal email has. So this means no filtering, 100% deliver-ability and no SPAM whatsoever.
YOBSN also offers games that users can play at no cost to them that allows them to win real cash and prizes. Users can also win simply by referring their friends. If one of their friends wins a prize in one of the games, they will win the exact same prize. And there is no limit to the number of prizes that a person can win either. The more friends a person refers, the better their odds are of winning a prize. They also offer daily, weekly and monthly prizes that users enter simply by clicking on the 3 prize boxes on the home page. Each time a user clicks on a prize box, they are given a ticket. They can get one ticket for each of the drawings each day. Each category has multiple winners. All tickets are good until the person actually wins so a users' odds will improve with each day they are entered. These are just a few of the great features that users will find on the all new YOBSN Beta.
About Smart Media
Smart Media is a world-class technology company that has developed proprietary technology called YOBSN which is set to revolutionize the Internet world. YOBSN works on any computer or browser and no technical experience is required. Users have access to the YOBSN Social Community which includes the latest Communication features, Social and Educational Games, Educational Video Libraries, Prizes, Giveaways, a Top Sites window to the Internet that puts the very best of the Internet at the users fingertips and the world's only Reward Points System where users earn points for simply using the Internet that they can redeem in the YOBSN online rewards store.
To learn more about Smart Media visit their website at: http://smartmediacommunications.com .
To learn more about the YOBSN Dynamic Bar go to: http://smartmediaplay.com .