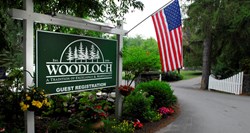 It amazes me every time I watch families arrive at Woodloch tired and stressed, but when I greet them at breakfast before they check out, they have a renewed spirit, are re-energized and ready to get back to work.
Hawley, PA (PRWEB) August 19, 2013
According to the Department of Labor, Labor Day was "created by the labor movement, dedicated to the social and economic achievements of American workers. It constitutes a yearly national tribute to the contributions workers have made to the strength, prosperity, and well-being of our country." As Labor Day approaches this September, over a quarter of all Americans will come to the hard realization that they did not take a break. A recent survey of American employees by professional services company Towers Watson shows that workers are putting in far more hours and taking less time off since 2009, and this trend is expected to continue through 2015.
While increasingly more studies and reports show how companies expect more out of less people, the economic crunch requires employees to do whatever it takes to stay employed, resulting in workers who are just plain tired. One idiom rings truer now than it ever has before: work hard, play harder.
Aside from providing fun, benefits of vacation include:

Improved cardiovascular health with lower risk of heart attack and stroke. Men who skipped vacations for five consecutive years or more were 30% more likely to suffer heart attacks than those who took at least one week of vacation each year, according to Dr. Glenn Braunstein of the Cedars-Sinai Medical Center. Similar studies have reached the same conclusion for women. Furthermore, an annual vacation can cut the risk of heart disease by up to 50%.
Mental rejuvenation from "burnout"- returning back to work feeling refreshed and recharged with new ideas. Vacationers who can escape their dependence on cell phones, laptops and negative television will even sleep more soundly, according to Alena Tugend of the New York Times.
Rekindling relationships with family and spending quality time with friends. A study conducted by the U.S. Travel Association found that at least 53% of families return from vacations feeling "more connected" while women who take more vacations are ultimately more satisfied with their marriages.
"Our activities schedule and pristine natural setting lends itself perfectly to working families who need to relax, recharge and reconnect," says John Kiesendahl, president and general manager of Woodloch Pines Resort. "It amazes me every time I watch families arrive at Woodloch tired and stressed, but when I greet them at breakfast before they check out, they have a renewed spirit, are re-energized and ready to get back to work."
What better excuse than Labor Day, the day that celebrates the American worker, than a rejuvenating retreat to a lakeside, mountain escape in the Pocono Mountains?
Nature lovers can enjoy biking and hiking on miles of private trails or boating on their private lake, scale their 30-foot rock wall, or test their marksmanship at the all-new archery range.
Thrill-seekers can get their rush with water skiing and paintball skirmishes. Take to the air with their 600-foot zip line!
Little ones will love arts and crafts, candy hunts and a petting zoo. Head to the kiddie splash pool for some late summer fun!
Trivia buffs can prove themselves in a variety of games based on music, television and more. Win big with their game shows!
Families can band up to compete for gold medals with events like Olympics and Scavenger Hunt.
In order to compel the overworked person to actually take the vacation that he or she has been intending to, Woodloch Pines Resort has created special Take Time to Get Away rates starting at just $249 per adult per night with three meals included daily. Reservations for Labor Day weekend are still available. Call 800.WOODLOCH, or visit Woodloch.com for more information.
About Woodloch Pines Resort:
Creating a magical experience for families since 1958, Woodloch Pines Resort's signature warm hospitality keeps guests returning year after year and offers a truly unique all-inclusive family vacation experience fitting for everyone's taste. An award-winning family resort, championship golf course and sister property featuring a luxury destination spa are just 95 scenic and convenient miles from New York City nestled in the Pocono Mountains Lake Region.
CONTACT:
BROOKE JENNINGS ROE
CELL: 347.256.1598 OR BJENNINGS(at)THELODGEATWOODLOCH(dot)COM
ERICA FILSTEIN
OFFICE: 570.685.8072 OR ERICA(dot)FILSTEIN(at)WOODLOCH(dot)COM