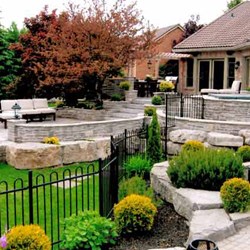 Toronto, Newmarket, Aurora (PRWEB) August 22, 2013
August is one of Canada's best summer months. Summer days offer a multitude of outdoor activities while the coolness of August evenings foreshadow approaching fall weather. Luckily, there are 30 days left before the fall equinox so bathing suits don't have to be packed away just yet.
In fact, this is the perfect season to consider transforming backyard landscape into a personal paradise.
Visionary Landscapes, landscape design specialists, in Aurora, Ontario, meet customers' outdoor design needs year-round. While spring and summer tend to be the busiest work season, the end of summer and early fall offers a myriad of opportunity to plan for an outdoor pool. The weather is cooler and dryer which means less rain than in spring time; a bonus for keeping mud from developing in the backyard while excavation and construction of a pool occurs.
Individuals install pools year-round and for a multitude of reasons from: wanting a pool to enjoy the hot sunny weather, hosting outdoor parties, to making permanent home improvements that add value and beauty to property. Needless to say, it's about turning the customers' creative ideas into a reality.
At Visionary Landscapes, an experienced landscape designer can help develop a pool design that suits any need or style. Things to consider include: whether a backyard is suitable for a pool, what zoning restrictions might apply, the size and shape of the pool, and how long the construction will take. At times, planning can be overwhelming. Bruce Maclaren, master of landscape design in Aurora can develop a thorough site plan that conceptualizes ideas and speaks to any issues or concerns.
Additionally, towards the end of the season many plants, shrubs and perennials go on sale which is a great opportunity to create a complimentary garden or enhance an existing garden. By the beginning of fall, plants' root systems will be established enough to start blossoming in spring.
Outdoor living has evolved from owning a picnic table to creating livable room in an outdoor environment. Start planning a backyard oasis today with Visionary Landscapes - a pool and exquisite backyard design could be in place before the end of summer. All matters concerning gardens, decks, pools, Jacuzzis, and architectural projects like cabanas, gazebos, flagstone walkways and patios, and stone fireplaces can be addressed.
About Visionary Landscapes
Visionary Landscapes, located in Aurora, Ontario offers custom poolside escapes and garden designs where nature meets design flawlessly. Bruce Maclaren, owner and founder, brings a unique background in engineering to the natural elements he incorporates in each design. In 1988 Bruce's creative landscaping approach won the gold Medal at that National Home Show for the first rock waterfall wrapping around the edge of a pool. It was the beginning of a new era of pool concepts in Canada – a precedent he continues to exceed.