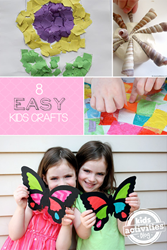 Making things easy for little ones to do, makes them that much more excited to do them.
Dallas, Texas (PRWEB) August 24, 2013
Easy crafts are the best kind of crafts for kids. Seasoned Moms are sharing a gallery of easy crafts for kids and the softest play dough recipe known to mankind.
Making things easy for little ones to do makes them that much more excited to do them. It also makes it super easy for Mom to rummage around the house and find the items to do the craft.
A butterfly catcher makes an easy afternoon craft. Use construction paper and a template to fill in the the holes with different colored tissue paper. Making a nerf gun will be one of the kids' favorite crafts. Simply use a small piece of PVC pipe, a balloon and a rubber band and ready is the craft that transforms into an afternoon filled with fun.
Another hit with kids is making a pom pom shooter out of upcycled pool noodles. Cut the noodles into small pieces, wrap a balloon around one end and ready is another round of pool noodle playtime.
Other crafts include rock turtles, paper plate bugs, and plane hangers. Super soft play dough can be done in 10 minutes or less. Ingredients for the recipe include 1 part hair conditioner and 2 parts corn starch. Adding food coloring for diversity is optional. Add some glitter, and the super soft play dough makes a great last minute birthday present for any child.
For detailed instructions and to get additional easy kids craft ideas, check out Kids Activities Blog this week. Come get inspired to let the kids have a blast with simple craft projects.
About Kids Activities Blog
Kids Activities Blog is a website created by two moms (who collectively have 9 children), Rachel Miller and Holly Homer, from June Cleaver Nirvana. It is their daily goal to inspire parents and teachers to play with kids. This interactive website publishes simple things to do with kids twice a day. Kids Activities Blog is a great tool for moms and teachers to find kid-friendly activities that create memories and sneak learning into the fun.