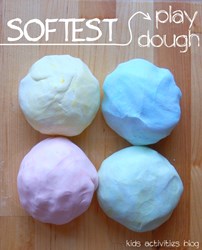 Making things easy for little ones makes them much more excited to do them.
Dallas, Texas (PRWEB) August 26, 2013
Play Dough is a staple in every childs play area. Moms are sharing their best play dough recipe ideas together with a laundry list of easy crafts for kids that ensure a fun afternoon while having a blast.
Making things easy for little ones to do makes them that much more excited to do them. It also makes it super easy for Mom to rummage around the house and find the items to do the craft.
The super soft play dough recipe is easy to make in 10 minutes or less. It is a non cook and non edible recipe and it uses only two basic ingredients, corn starch and hair conditioner.
Simply mix one part of hair conditioner and two parts of corn starch together. Add food coloring for diversity. Adding sparkles will turn the fun play dough into a great birthday gift. The play dough is soft to the hands and will feel silky or cloud-like when handled.
Other easy craft ideas include building a nerf gun out of PVC pipes, upcycling pool noodles by transforming them into pom pom shooters, creating rock turtles, building plane hangers for the super duper paper airplane flying contest, and creating adorable butterfly suncatchers.
For detailed instructions and to get additional east craft ideas for kids, check out Kids Activities Blog this week. Come get inspired to do some simple crafts that sneak in lots of learning.
About Kids Activities Blog
Kids Activities Blog is a website created by two moms (who collectively have 9 children), Rachel Miller and Holly Homer from June Cleaver Nirvana. It is their daily goal to inspire parents and teachers to play with kids. This interactive website publishes simple things to do with kids twice a day. Kids Activities Blog is a great tool for moms and teachers to find kid-friendly activities that create memories and sneak learning into the fun.