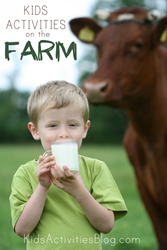 Take the kids to a farm or on a nature trail to teach them the importance of taking care of nature for generations to come.
Dallas, Texas (PRWEB) August 27, 2013
Farm visits are fun and educational. Kids Activities Blog has published a list of fun activities on the farm together with a nature walk project that will turn any child into an outdoor enthusiast.
The fun farm activities include growing a tree from a simple acorn, learning how to raise chickens or other farm animals, and collecting all sorts of colorful things around the barn area and sorting them.
Before heading out to the farm, make a list of all the neat things one may find on a farm. Let the kids take a camera along and turn the visit into a photo scavenger hunt of the neat things. The scavenger hunt will turn into an educational lesson while having a blast.
Going on an nature walk will make kids appreciate and take care of mother nature. Setting up the conservational walk is easy. Simply hide a few left over picnic cartons and toys along the trail. Talk to them about what they love about nature and the importance of taking care of nature through conservation. Not breaking branches, not taking treasures, and not leaving trash behind are important topics to discuss.
Give the kids a check list with man made items hidden along the path. The project will instill an appreciation of mother nature while having lots of fun.
For detailed instructions and to get additional fun outdoor activities, check out Kids Activities Blog this week. Come get inspired to teach the kids the importance of conservation.
About Kids Activities Blog
Kids Activities Blog is a website created by two moms (who collectively have 9 children), Rachel Miller and Holly Homer from June Cleaver Nirvana. It is their daily goal to inspire parents and teachers to play with kids. This interactive website publishes simple things to do with kids twice a day. Kids Activities Blog is a great tool for moms and teachers to find kid-friendly activities that create memories and sneak learning into the fun.