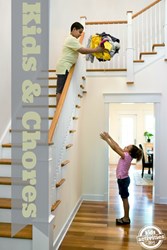 Making the kids a valuable member of the family increases self esteem and pride.
Dallas, TX (PRWEB) August 29, 2013
The subject of chores for kids is difficult for kids and parents alike. Kids would love to have a chore-free home. Parents find it difficult to find the right chores and to ensure that the work has been done.
The good news is that the whole family benefits when the work has been distributed and is complete. Seasoned Moms are sharing their chore routine and back to school information that help to run smooth and happy households.
Chores can be divided into age groups. Toddlers age 2 to 3 years old can help by putting away their toys, by bringing their plate and cup to the sink, by cleaning up after their spills, and by putting dirty clothes into the hamper.
Pre-school kids can help by making their bed, taking out recycling trash, by feeding the animals, by watering the flowers and dusting. Elementary age kids can set the table, sweep, vacuum, get the mail, rake the leaves, and wash the car.
Older elementary age children, ages 9 to 11 years old, can walk dogs, take garbage cans to curb, mow lawn, shovel snow, clean animal cages, help to make or pack lunches.
Middle school kids can help with yard work, clean showers, mop floors and supervise younger siblings. Motivating kids can include allowances or other special treats. Making the kids a valuable member of the family increases self esteem and pride.
Helpful back to school tips include ways to get cheap school supplies, lots of ways to organize the desk and work area, fun back to school activities, and tips to pack special lunches.
For detailed instructions and to get additional tips, check out Kids Activities Blog this week. Come get inspired to get the kids on the right learning path this fall.
About Kids Activities Blog
Kids Activities Blog is a website created by two moms (who collectively have 9 children), Rachel Miller and Holly Homer from June Cleaver Nirvana. It is their daily goal to inspire parents and teachers to play with kids. This interactive website publishes simple things to do with kids twice a day. Kids Activities Blog is a great tool for moms and teachers to find kid-friendly activities that create memories and sneak learning into the fun.