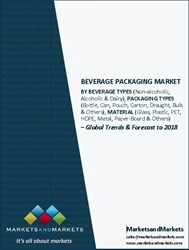 Rockville, MD (PRWEB) August 20, 2013
Beverage Packaging Market By Beverage Types (Non-Alcoholic, Alcoholic & Dairy), Packaging Types (Bottle, Can, Pouch, Carton, Draught, Bulk & Others), Material (Glass, Plastic, PET, HDPE, Metal, Paper-Board & Others) - Global Trends & Forecast To 2018
The beverage industry is one of the most important constituents of consumer packaged goods. As economic stability is restoring, the beverage industry is gaining its lost volume. The beverage packaging market is considered to be one of the most dynamic packaging markets with shifts in types of packaging and materials used varyingly across regions.
This report estimates the market size of the global beverage and its packaging market in terms of revenue and volume of beverages packaged. Non-alcoholic beverage packaging dominates the market share in terms of value as well as in volume. In terms of geography, the report is segmented by Asia-Pacific, Europe, North America, and Rest of the World (ROW). The beverage packaging market is broadly divided on the basis of package type, such as bottle, can, pouch, cartons, and others. With a huge market potential and growing consumer preference, the market is likely to witness considerable growth in the coming years.
Key Findings include:
-Plastic has the highest growth rate and its market is entirely pushed by PET, market share of plastic is increasing for the period under consideration. Paper & board registers the highest growth, reaching $16.9 billion by 2018. Such shifts in preference for PET and HDPE over glass and metal, arises mainly from structural and cost advantages that plastics provide. Not only the cost of production, but also the cost of recycling plastics is cheaper as compared to other materials.
-The saturated beverage market of the North America and Europe will result to slow growth of packaging market in the region. A slight boost in European market can be seen by the East European nations. Environmental awareness in consumers is also driving them to use environmentally friendly products and this is a reason that they are changing their preferences from glass to PET and HDPE.
To order this report:
Beverage Packaging Market By Beverage Types (Non-Alcoholic, Alcoholic & Dairy), Packaging Types (Bottle, Can, Pouch, Carton, Draught, Bulk & Others), Material (Glass, Plastic, PET, HDPE, Metal, Paper-Board & Others) - Global Trends & Forecast To 2018
Contact: Shauna
800.298.5699
Customerservice(at)marketresearch(dot)com
About MarketsandMarkets
The MarketsandMarkets edge: Worldwide, market research reports are primarily sold for numbers, market segmentation and competitive landscape, within the business leaders.
The analyst working with MarketsandMarkets come from the renowned publishing houses and market research firms globally adding their expertise and domain understanding. We get the facts from over 22,000 news and information sources, a database of hundred thousands of key industry participants and draw on our relationship with more than 900 market research companies globally.
In course of our ongoing relationship with research partners for over a period of three years, our clients have discovered that we can not only head-start any given research project immediately but also execute it in a stipulated time frame. We always prioritize our commitments of confidentiality. The fact that a high percentage of our business comes from client referrals bears ample testimony to the quality of our market research reports.
About MarketResearch.com
MarketResearch.com is the leading provider of global market intelligence products and services. With research reports from more than 720 top consulting and advisory firms, MarketResearch.com offers instant online access to the world's most extensive database of expert insights on global industries, companies, products, and trends. Moreover, MarketResearch.com's Research Specialists have in-depth knowledge of the publishers and the various types of reports in their respective industries and are ready to provide research assistance. For more information, call Cindy Frei at 240.747.3014 or visit http://www.marketresearch.com
Follow us on Facebook http://www.facebook.com/marketresearchdotcom
Follow us on Twitter http://www.twitter.com/marketresearch_
Beverage Packaging Market By Beverage Types (Non-Alcoholic, Alcoholic & Dairy), Packaging Types (Bottle, Can, Pouch, Carton, Draught, Bulk & Others), Material (Glass, Plastic, PET, HDPE, Metal, Paper-Board & Others) - Global Trends & Forecast To 2018 – Table of Contents:
1 Introduction
2 Executive Summary
3 Market Overview
4 Non-alcoholic Beverage Packaging Market
5 Alcoholic Beverage Packaging Market
6 Dairy Beverage Packaging
7 Competitive Landscape
8 Company Profiles (Overview, Financials, Products & Services, Strategy, And Developments)*
List Of Tables
Table 1 Non-alcoholic Beverage Packaging: Market Volume, By Types, 2011 – 2018 (Billion Liters)
Table 2 Non-alcoholic Beverage Packaging: Market Revenue, By Types, 2011 – 2018 ($billion)
Table 3 Non-alcoholic Beverage Packaging: Market Volume, By Materials, 2011 – 2018 (Billion Liters)
Table 4 Non-alcoholic Beverage Packaging: Market Revenue, By Materials, 2011 – 2018 ($billion)
Table 5 Non-alcoholic Beverage Packaging: Market Volume, By Geography, 2011 – 2018 ($billion)
Table 6 North America: Non-alcoholic Beverage Packaging Market Volume, By Types, 2011 – 2018 (Billion Liters)
Table 7 North America: Non-alcoholic Beverage Packaging Market Volume, By Materials, 2011 – 2018 (Billion Liters)
Table 8 Europe: Non-alcoholic Beverage Packaging Market Volume, By Types, 2011 – 2018 (Billion Liters)
Table 9 Europe: Non-alcoholic Beverage Packaging Market Volume, By Materials, 2011 – 2018 (Billion Liters)
Table 10 Asia-pacific: Non-alcoholic Beverage Packaging Market Volume, By Types, 2011 – 2018 (Billion Liters)
Table 11 Asia-pacific: Non-alcoholic Beverage Packaging Market Volume, By Materials, 2011 – 2018 (Billion Liters)
Table 12 Row: Non-alcoholic Beverage Packaging Market Volume, By Types, 2011 – 2018 (Billion Liters)
Table 13 Row: Non-alcoholic Beverage Packaging Market Volume, By Materials, 2011 – 2018 (Billion Liters)
Table 14 U.S.: Non-alcoholic Beverage Packaging Market Volume, By Types, 2011 – 2018 (Billion Liters)
Table 15 U.S.: Non-alcoholic Beverage Packaging Market Volume, By Materials, 2011 – 2018 (Billion Liters)
Table 16 Germany: Non-alcoholic Beverage Packaging Market Volume, By Types, 2011 – 2018 (Billion Liters)
Table 17 Germany: Non-alcoholic Beverage Packaging Market Volume, By Materials, 2011 – 2018 (Billion Liters)
Table 18 France: Non-alcoholic Beverage Packaging Market Volume, By Types, 2011 – 2018 (Billion Liters)
Table 19 France: Non-alcoholic Beverage Packaging Market Volume, By Materials, 2011 – 2018 (Billion Liters)
Table 20 U.K.: Non-alcoholic Beverage Packaging Market Volume, By Types, 2011 – 2018 (Billion Liters)
Table 21 U.K.: Non-alcoholic Beverage Packaging Market Volume, By Materials, 2011 – 2018 (Billion Liters)
Table 22 China: Non-alcoholic Beverage Packaging Market Volume, By Types, 2011 – 2018 (Billion Liters)
Table 23 China: Non-alcoholic Beverage Packaging Market Volume, By Materials, 2011 – 2018 (Billion Liters)
Table 24 India: Non-alcoholic Beverage Packaging Market Volume, By Types, 2011 – 2018 (Billion Liters)
Table 25 India: Non-alcoholic Beverage Packaging Market Volume, By Materials, 2011 – 2018 (Billion Liters)
Table 26 Brazil: Non-alcoholic Beverage Packaging Market Volume, By Types, 2011 – 2018 (Billion Liters)
Table 27 Brazil: Non-alcoholic Beverage Packaging Market Volume, By Materials, 2011 – 2018 (Billion Liters)
Table 28 Alcoholic Beverage Packaging: Market Revenue, By Types, 2011 – 2018 ($billion)
Table 29 Alcoholic Beverage Packaging: Market Revenue, By Materials, 2011 – 2018 ($billion)
Table 30 Alcoholic Beverage Packaging: Market Volume, By Types, 2011 – 2018 (Billion Liters)
Table 31 Alcoholic Beverage Packaging: Market Volume, By Materials, 2011 – 2018 (Billion Liters)
Table 32 Alcoholic Beverage Packaging: Market Volume, By Geography, 2011 – 2018 (Billion Liters)
Table 33 Alcoholic Beverage Packaging: Market Revenue, By Geography, 2011 – 2018 ($billion)
Table 34 North America: Alcoholic Beverage Packaging, Market Volume, By Countries, 2011 – 2018 (Billion Liters)
Table 35 North America: Alcoholic Beverage Packaging, Market Volume, By Types, 2011 – 2018 (Billion Liters)
Table 36 North America: Alcoholic Beverage Packaging, Market Volume, By Materials, 2011 – 2018 (Billion Liters)
Table 37 Europe: Alcoholic Beverage Packaging, Market Volume, By Countries, 2011 – 2018 (Billion Liters)
Table 38 Europe: Alcoholic Beverage Packaging, Market Volume, By Types, 2011 – 2018 (Billion Liters)
Table 39 Europe: Alcoholic Beverage Packaging, Market Volume, By Materials, 2011 – 2018 (Billion Liters)
Table 40 Asia-pacific: Alcoholic Beverage Packaging, Market Volume, By Countries, 2011 – 2018 (Billion Liters)
Table 41 Asia-pacific: Alcoholic Beverage Packaging, Market Volume, By Types, 2011 – 2018 (Billion Liters)
Table 42 Asia-pacific: Alcoholic Beverage Packaging, Market Volume, By Materials, 2011 – 2018 (Billion Liters)
Table 43 Row: Alcoholic Beverage Packaging, Market Volume, By Countries, 2011 – 2018 (Billion Liters)
Table 44 Row: Alcoholic Beverage Packaging, Market Volume, By Types, 2011 – 2018 (Billion Liters)
Table 45 Row: Alcoholic Beverage Packaging, Market Volume, By Materials, 2011 – 2018 (Billion Liters)
Table 46 U.S.: Alcoholic Beverage Packaging, Market Volume, By Types, 2011 – 2018 (Billion Liters)
Table 47 U.S.: Alcoholic Beverage Packaging, Market Volume, By Materials, 2011 – 2018 (Billion Liters)
Table 48 Germany: Alcoholic Beverage Packaging, Market Volume, By Types, 2011 – 2018 (Billion Liters)
Table 49 Germany: Alcoholic Beverage Packaging, Market Volume, By Materials, 2011 – 2018 (Billion Liters)
Table 50 Germany: Alcoholic Beverage Packaging, Market Volume, By Types, 2011 – 2018 (Billion Liters)
Table 51 Germany: Alcoholic Beverage Packaging, Market Volume, By Materials, 2011 – 2018 (Billion Liters)
Table 52 France: Alcoholic Beverage Packaging, Market Volume, By Types, 2011 – 2018 (Billion Liters)
Table 53 France: Alcoholic Beverage Packaging, Market Volume, By Materials, 2011 – 2018 (Billion Liters)
Table 54 U.K: Alcoholic Beverage Packaging, Market Volume, By Types, 2011 – 2018 (Billion Liters)
Table 55 U.K.: Alcoholic Beverage Packaging, Market Volume, By Materials, 2011 – 2018 (Billion Liters)
Table 56 China: Alcoholic Beverage Packaging, Market Volume, By Types, 2011 – 2018 (Billion Liters)
Table 57 China: Alcoholic Beverage Packaging, Market Volume, By Materials, 2011 – 2018 (Billion Liters)
Table 58 India: Alcoholic Beverage Packaging, Market Volume, By Types, 2011 – 2018 (Billion Liters)
Table 59 India: Alcoholic Beverage Packaging, Market Volume, By Materials, 2011 – 2018 (Billion Liters)
Table 60 Brazil: Alcoholic Beverage Packaging, Market Volume, By Types, 2011 – 2018 (Billion Liters)
Table 61 Brazil: Alcoholic Beverage Packaging Market Volume, By Materials, 2011 – 2018 (Billion Liters)
Table 62 Dairy Beverage: Market Revenue, By Types, 2011 – 2018 ($billion)
Table 63 Dairy Beverage: Market Revenue, By Geography, 2011 – 2018 ($billion)
Table 64 Dairy Beverage Packaging: Market Revenue, By Types, 2011 – 2018 ($billion)
Table 65 Dairy Beverage Packaging: Market Volume, By Types, 2011 – 2018 (Billion Liters)
Table 66 Dairy Beverage Packaging: Market Revenue, By Materials, 2011 – 2018 ($billion)
Table 67 Dairy Beverage Packaging: Market Volume, By Materials, 2011 – 2018 (Billion Liters)
Table 68 Dairy Beverage Packaging: Market Revenue, By Geography, 2011 – 2018 ($billion)
Table 69 North America: Dairy Beverage Packaging Market Volume, By Types, 2011 – 2018 (Billion Liters)
Table 70 North America: Dairy Beverage Packaging Market Volume, By Materials, 2011 – 2018 (Billion Liters)
Table 71 North America: Dairy Beverage Packaging Market Volume, By Countries, 2011 – 2018 (Billion Liters)
Table 72 Europe: Dairy Beverage Packaging Market Volume, By Types, 2011 – 2018 (Billion Liters)
Table 73 Europe: Dairy Beverage Packaging Market Volume, By Materials, 2011 – 2018 (Billion Liters)
Table 74 Europe: Dairy Beverage Packaging Market Volume, By Countries, 2011 – 2018 (Billion Liters)
Table 75 Asia Pacific: Dairy Beverage Packaging Market Volume, By Types, 2011 – 2018 (Billion Liters)
Table 76 Asia Pacific: Dairy Beverage Packaging Market Volume, By Materials, 2011 – 2018 (Billion Liters)
Table 77 Asia-pacific: Dairy Beverage Packaging Market Volume, By Countries, 2011 – 2018 (Billion Liters)
Table 78 Row: Dairy Beverage Packaging Market Volume, By Types, 2011 – 2018 (Billion Liters)
Table 79 Row: Dairy Beverage Packaging Market Volume, By Materials, 2011 – 2018 (Billion Liters)
Table 80 Row: Dairy Beverage Packaging Market Volume, By Countries, 2011 – 2018 (Billion Liters)
Table 81 U.S.: Dairy Beverage Packaging Market Volume, By Types, 2011 – 2018 (Billion Liters)
Table 82 U.S.: Dairy Beverage Packaging Market Volume, By Materials, 2011 – 2018 (Billion Liters)
Table 83 Germany: Dairy Beverage Packaging Market Volume, By Types, 2011 – 2018 (Billion Liters)
Table 84 Germany: Dairy Beverage Packaging Market Volume, By Materials, 2011 – 2018 (Billion Liters)
Table 85 France: Dairy Beverage Packaging Market Volume, By Types, 2011 – 2018 (Billion Liters)
Table 86 France: Dairy Beverage Packaging Market Volume, By Materials, 2011 – 2018 (Billion Liters)
Table 87 U.K.: Dairy Beverage Packaging Market Volume, By Types, 2011 – 2018 (Billion Liters)
Table 88 U.K.: Dairy Beverage Packaging Market Volume, By Materials, 2011 – 2018 (Billion Liters)
Table 89 China: Dairy Beverage Packaging Market Volume, By Types, 2011 – 2018 (Billion Liters)
Table 90 China: Dairy Beverage Packaging Market Volume, By Materials, 2011 – 2018 (Billion Liters)
Table 91 India: Dairy Beverage Packaging Market Volume, By Types, 2011 – 2018 (Billion Liters)
Table 92 India: Dairy Beverage Packaging Market Volume, By Materials, 2011 – 2018 (Billion Liters)
Table 93 Brazil: Dairy Beverage Packaging Market Volume, By Types, 2011 – 2018 (Billion Liters)
Table 94 Brazil: Dairy Beverage Packaging Market Volume, By Materials, 2011 – 2018 (Billion Liters)
Table 95 Mergers & Acquisitions
Table 96 New Product, Services, Technology Launches, &Developments, 2010 – 2013
Table 97 Agreements, Collaborations, Joint Ventures, Supply Contracts &Other Developments, 2010 – 2013
Table 98 Expansion & Investment, 2010-2013
Table 99 Alcoa: Market Share, By Geography, 2011 – 2012
Table 100 Alcoa: Products, Category, & Its Descriptions
Table 101 Alpla: Products & Its Description
Table 102 Amcor: Products, Category, & Its Descriptions
Table 103 Ardagh: Annual Revenue, By Business Segments, 2011 – 2012 ($million)
Table 104 Ardagh: Products, Category, & Its Description
Table 105 Ball: Annual Revenue, By Geography, 2011 – 2012 ($million)
Table 106 Ball: Products, Category, & Its Description
Table 107 Constar: Products & Its Descriptions
Table 108 Crown: Products, Category, & Its Description
Table 109 Hindustan National: Market Share, By Segments, 2011 – 2012
Table 110 Hindustan National: Products, Category, & Its Description
Table 111 Mondi: Products, Category, & Its Description
Table 112 Mossi: Product, Category & Its Description
Table 113 Owens-illinois: Annual Revenue, By Geography, 2011 – 2012 ($million)
Table 114 Rexam: Products, Category, & Its Description
Table 115 Reynolds: Subsidiaries, Products Its Applications
Table 116 Rpc: Products & Its Description
Table 117 Saint-gobain: Market Share, By Sectors, 2011 – 2012
Table 118 Saint-gobain: Market Share, By Geography, 2011 – 2012
Table 119 Saint-gobain: Products, Category, & Its Variance
Table 120 Silgan: Market Revenue, By Segments, 2012 ($million)
Table 121 Sisecam: Market Share, By Geography, 2012
Table 122 Sisecam: Products, Category & Its Description
Table 123 Sonoco: Market Revenue, By Segments, 2011 – 2012 ($million)
Table 124 Sonoco: Market Revenue, By Geography, 2011 – 2012 ($million)
Table 125 Sonoco: Products & Its Description
Table 126 Stora Enso: Market Revenue, By Segments, 2011 – 2012 ($million)
Table 127 Stora Enso: Brands, Types & Its Description
Table 128 Tetra: Market Revenue, By Business Segments, 2012 ($million)
Table 129 Tetra: Products, Category, & Its Description