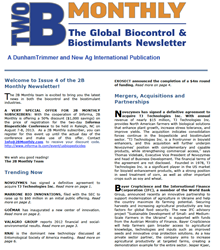 2B Monthly is the only news source that is focused exclusively on the global biocontrol and biostimulant markets.
(PRWEB) August 21, 2013
2B Monthly's comprehensive coverage of company news includes Mergers, Acquisitions and Partnerships, New Products and Personnel Announcements, as well as Emerging Market Trends, Regulatory Developments, the latest Scientific Findings in the Biological arena and Upcoming Events of Interest. 2B Monthly has recently added a new area of coverage, Executives Speak, which includes exclusive interviews with the top executives in the Biocontrol and Biostimulants Industries. Placing subscribers in the driver's seat when it comes to being in the know is 2B Monthly's top priority and strongest commitment at all times. Since its launch in April of 2013, 2B Monthly-The Global Biocontrol & Biostimulants Newsletter has captured the attention of leading executives from the Biocontrol and Biostimulants industries. 2B Monthly's subscriber numbers are growing rapidly.
The Global Biocontrol & Biostimulants Newsletter equips subscribers with a competitive advantage by sending out Breaking News Alerts the moment important news arrives. 2B Monthly has consistently notified its subscribers about Breaking News Events in advance of the other News Sources.
Here is a sampling of initial impressions from Chief Executives:
"This provides our industry an excellent publication to place critical news and to keep updated on the many news items in biocontrol today. At the same time, biostimulants are professionally covered as well." - Willem Ravensberg, IBMA President and Koppert Research Director
"Accurate and up-to-date information is the cornerstone for fair competition and market development. 2B Monthly fulfills this critical business need and contributes to the emergence of two promising sets of technology fo improving the sustainability of global agriculture: biostimulants and biocontrol." - Giuseppe Natale, CEO of Valagro and President of EBIC-European Biostimulants Industry Council
"2B Monthly is one publication I read cover to cover as soon as it comes in." -Pam Marrone, CEO, Marrone Bio Innovations
"2B Monthly provides us timely insights into the biocontrol and biostimulant markets; knowing what's happening on a global basis is critical to remaining competitive." - Bill Foster, President, BioWorks
"2B Monthly provides me with a clear and concise view of what's happening in the biopesticides/biocontrol marketplace. It stimulates my hunger for information." - Bill Stoneman, Executive Director for BPIA
2B Monthly is proud to announce that we will be an exhibitor at the ABIM Conference in Basel (Switzerland) on October 21-23, 2013.
About DunhamTrimmer LLC:
Headquartered in the USA, DunhamTrimmer LLC is the premier market research company that focuses exclusively on the global biological agricultural markets, including the biopesticide, biocontrol, and biostimulant industries. DunhamTrimmer LLC has the unique combination of an international network, broad market experience and a thorough understanding of the global biological sector.
Confidential Single-Client Studies:
If you require a focused, in-depth competitive analysis within any of the biological market segments, DunhamTrimmer LLC offers up-to-the-minute, custom-tailored, confidential global market research and due diligence on specific biopesticide, biocontrol, and biostimulant companies, technologies, products, and market segments.
For more information, please visit http://www.dunhamtrimmer.com.
About New Ag International SARL:
With its English, Spanish and Chinese editions, New Ag International (NAI) SARL, headquartered in France with branches in the UK, China and Chile is the only international magazine and event organizer specializing in the high-tech agriculture field with readers in more than 150 countries around the globe.
NAI provides an independent editorial analysis on products, techniques, equipment and services covering among others biocontrol and biostimulants. NAI is the organizer of the World Congress on Biostimulants and is the official partner magazine of ABIM, the largest global biocontrol event. For more information, please visit http://www.newaginternational.com.
Contact: +44 (0) 20 8481 3740