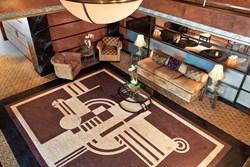 The new menu will be a Dynamic Menu that will be one that is subject to change at any moment; however, it will most likely be one that is seasonal, which will allow us to utilize the freshest ingredients while adding a special seasonal flare...
Great Neck, New York (PRWEB) August 22, 2013
The Inn at Great Neck has been in the heart of the tree-lined streets of Great Neck for over eighteen years. During that time, the Inn opened their current restaurant, which is the Giraffe Room Restaurant & Lounge. For a period of time the restaurant was leased out to a second party, which ultimately ended up hurting the Hotel as the restaurant did not adhere to the same self-imposed standards of the Hotel.
In early 2012, the Inn at Great Neck took over complete operations of the restaurant and has since turned things around drastically by hiring their own personnel, which includes a new executive chef, line and prep cooks, restaurant management and wait staff.
The hotel is now preparing to change its menu and overall theme of its dining room cuisine, which will have a French/American twist to it. It is the hotel's hopes that its new restaurant will enhance the services rendered to their in-house guests and attract additional outside guests from Great Neck and surrounding towns such as Manhasset, Lake Success, Roslyn, Port Washington and many parts of Queens.
The transition has slowly been taking place as the current restaurant remains open to fully serve its guests. "We are doing things very methodically, and the transition has been one that it is slowly taking place so that we may continue to provide all of our guests and customers with uninterrupted services, and to ensure we get things just the way we want them," said Franklin Manchester, the Inn's general manager.
As of right now the Inn at Great Neck plans to have all things in place by mid to late September. Besides changing the menu in the restaurant, the hotel will be offering some of its new menu items on their room service menu. The menu will be one that is now combined, instead of the Inn having a separate lounge and restaurant menu. In addition, one menu will be exclusive to evening hours and another will be available for lunch. At this time there are no plans to make any significant changes to the breakfast menu; however, that could be something that is addressed further down the line. Manchester added, "There are many things that need to take place to make sure we are putting our best foot forward. We are not revealing too much at this time because we will be doing a full marketing campaign once we have established the vast majority of changes we want, and believe we need to see, before sharing too much information."
The restaurant will in fact have a new name, according to Manchester, and it will have its own URL address that will lead people to the Inn's current website but direct them to the restaurant page where various changes will be made. As of right now there are no plans to change the hotel's current banquet and catering menus, which were actually put in place by Manchester and his team in mid June of last year. According to Manchester, the Inn is always making changes to its banquet and catering menus and also customizes them for individual guests to meet their specific needs.
When Manchester was asked to comment on the new restaurant menu, he said, "The new menu will be a dynamic menu that will be one that is subject to change at any moment; however, it will most likely be one that is seasonal, which will allow us to utilize the freshest ingredients while adding a special seasonal flare to the them with a French/American twist."
Between now and their official opening announcement, the Inn will be incorporating some of their new dishes and the current menu will be done away with, as it will ultimately be a soft opening at first. The Inn's biggest challenge will most likely be competing with the many restaurants that exist in the town of Great Neck; however, Manchester and his team believe they are going to create a special menu and offer services that are unique to the area, while offering added value, and a very comfortable environment to dine in.