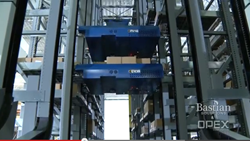 It can result in a 50% reduction in the workforce needed while boosting production by 30%. Think about that on Black Friday.
Indianapolis, IN (PRWEB) August 21, 2013
Look out, Amazon. Bastian Solutions is leveling the materials handling playing field.
The undisputed king in getting products to consumers seems to have as its latest goal (source: Slate.com 7/11/2012) to deliver goods to buyers the same day they're ordered. Now, Bastian Solutions, headquartered in Indianapolis, says it is making other online retailers truly competitive in e-fulfillment by integrating technologies that streamline operations and make additional warehouse space unnecessary.
Should Amazon be worried? Bastian says yes.
Perfect Pick™, an automated system that uses intelligent wireless vehicles (iBots), already challenges the Kiva technology purchased by Amazon late last year. With the ability to retrieve and put away goods at rates up to 1,000 dual-command cycles an hour, this scalable technology can significantly reduce the number of employees and time required to pick and ship online orders, says Bill Bastian II, president of Bastian Solutions.
"Perfect Pick is just one of the technologies we're bringing to e-fulfillment centers. Alone, it can result in a 50-percent reduction in the workforce needed while boosting production by 30 percent. Think about that on Black Friday. This kind of efficiency can translate into hundreds of thousands of dollars of extra sales."
Bastian Solutions became the preferred integrator for Perfect Pick by developing software that effectively integrates into existing warehouse management systems.
That's Bastian Solutions' strength: the expertise to integrate goods-to-person technologies such as Perfect Pick as well as other automated picking and robotic solutions.
Bastian stresses that technology alone isn't the answer.
"To be competitive, businesses need to know how to get optimal performance from the tools – how to slot their products, how to retain the strengths of their existing warehouse systems and how to best utilize their employees. Bastian Solutions takes that global view to create a seamless, efficient, profitable system."