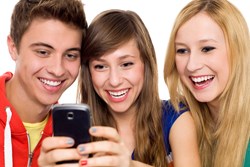 For a quick shout out, just take one picture, say hi, and send in an instant.
(PRWEB) August 21, 2013
Today, Glimr announced the availability of the new iPhone, social messaging app for capturing a moment and messaging friends in a whole new way: pictures you can hear. Snap pictures, talk, send. Download the iPhone app here.
With the new iPhone application, users can take up to 10 new photos in the Glimr camera or select from your camera roll. For a quick shout out, just take one picture, say hi and send in an instant. With multiple pictures, photos are automatically mixed with the audio in a beautiful slideshow with soft transitions.
Glimr shows users when each of their friends has viewed a message; no more wondering whether anyone is paying attention. The Glimr social messaging application also helps users get their message out by allowing friends to "pass it on"—sharing the message with their friends. Everyone on the chain sees a list of who has access to the message and can share in commenting on that message. The creator can always delete the message and all related activity.
"This is the beginning of what we think is a great way to capture a moment, send to friends, or just save it for yourself," said Glimr founder David Estrada, a Silicon Valley veteran of Google, YouTube and Yahoo. "Ultimately we want Glimr to be the best place for you to share life's moments, store and access your memories, and discover fun people and places around the world."
Unlike a lot of new social networks that feel useless until their friends join, Glimr users can start creating and sharing immediately. "With Glimr you can share immediately by phone number with anyone in your phone contacts list," said Mr. Estrada. "You can also share on Facebook, Twitter, and by email. We want sharing to be easy and fast, whether or not your friends are on Glimr yet." Because users register by phone number, they are automatically connected when their friends join; no other social network makes sharing and connecting with friends as easy as the new Glimr social messaging app.
About Glimr, Inc.
Glimr was founded in June 2013 by David Estrada, a Silicon Valley veteran from Google, YouTube, and Yahoo. Learn about Glimr at glimr-app.com and download the app today on the App Store. The Glimr website features an introduction by electronic dance music star Luckydate, who has quite a Twitter following @luckydate. Follow Glimr on Twitter @glimr, and 'like' Glimr on Facebook at facebook.com/glimr.