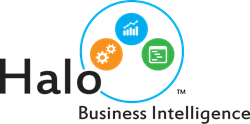 Delivering the HALO BI software through the GoIWx Cloud makes it possible to start mining data much quicker than traditional methods.
San Diego, CA (PRWEB) August 20, 2013
Halo Business Intelligence (Halo BI) and GoIWx today announced they have entered into a strategic software sales and support partnership to bring the power of Halo's Holistic BI platform to the Cloud. GoIWx will provide a private Cloud environment dedicated to the Halo BI customers, and in turn, HaloBI will provide GoIWx customers with advanced technologies that until today, were only available in an on-premise solution.
"Offering Halo BI in the Cloud and offering SaaS pricing allows us small and midsize businesses to harness the power of cutting-edge analytical and predictive solutions that until now were only available to fortune 500 companies. Our partnership with GoIWx enables us to put our technology in the hands of a large number of users at an attractive price point," says Halo BI President and CEO, Ray Major. "The added value to our clients resulting from this partnership is that they can avoid the cost of expensive hardware, ancillary software licenses, and the resulting maintenance typically needed when running on-premise. Furthermore, the application is accessible anytime, anywhere, 24/7 with confidence."
Founded in 2008, Halo develops a holistic BI solution that let businesses combine all manners of business data with external "big data" like social media and web logs in order to collaborate and analyze it in ways that aren't possible with one system alone. The Halo business analytics and intelligence platform is primarily deployed in enterprises with $50 million to $1 billion in revenue and used by a broad spectrum of personnel, from marketing and financial staffers to "C-level" executives.
Chief Executive Officer of GoIWx, Inc., RJ Burgess said of the partnership: "The Partnership between GoIWx and HALO BI is way overdue. Companies that use ERP software need a product like HALO BI to mine the data, providing insightful information to key individuals to help them make quick decisions that drive improved efficiencies and higher profits. Delivering the HALO BI software through the GoIWx Cloud makes it possible to start mining data much quicker than traditional methods."
About GoIWx, Inc
GoIWx is an experienced provider of cloud-based ERP application hosting and management services for businesses. Founded in 1999 during the .COM era, GoIWx has been delivering business applications over the cloud before it was known as the "Cloud". A Microsoft SPLA partner, we offer a range of premier IaaS and SaaS solutions for companies looking to benefit from the efficiency and flexibility of cloud management and hosting. GoIWx customers and partners have been leveraging our wide range of services for competitive advantage. These services include application hosting, support, upgrades, patches, IT infrastructure design and management. Whether your business is in need of IaaS or SaaS cloud hosting solutions, you can always count on the team at GoIWx to provide total availability, elite performance, and comprehensive security. The company is headquartered in Minneapolis, Minnesota and maintains hosting facilities in North America. For more information, contact GoIWx, Inc. at 952-258-6300, email: info(at)goiwx(dot)com, or on the web: http://www.goiwx.com .
About Halo Business Intelligence
Halo Business Intelligence is a Microsoft Gold Certified global provider of information discovery, business intelligence and analytics systems tailored for small and mid-sized enterprises. Developed to leverage common business software systems, open technologies, and mobile devices like smartphones and tablets, Halo BI frees non-technical users to do their own data-mining, analysis and reporting without relying on IT staff or proprietary applications. Founded in 2008, the company has more than 300 customers in manufacturing, retail, construction, health care, hospitality and professional services worldwide. The company is headquartered in San Diego, California, and maintains corporate offices in North America, EMEA and the Asia-Pacific region. For more information, contact Halo BI at tel: +1 888 300-0219, email: info(at)halobi(dot)com, or on the web: http://www.halobi.com.