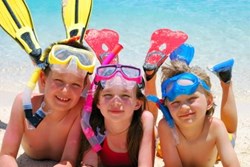 It can be significantly cheaper for the average family of four to drive to their destination rather than fly, even with hotel costs included.
Orlando, FL (PRWEB) August 20, 2013
HotelCoupons.com, a leading provider of hotel coupons and travel deals for the U.S. traveler, is offering its top money-saving tips for last-minute road warriors this Labor Day weekend. With more Americans planning to stay close to home this year (84% of Independence Day travelers went by car), HotelCoupons.com recommends utilizing digital resources and traveling off the beaten path to ensure availability and score the best deal.
"Making travel plans at any time of the year can be extremely stressful," said Mark Novak, vice-president and general manager of HotelCoupons.com. "But trying to plan a spur of the moment vacation during one of the busiest travel weekends of the year can be downright chaotic. We want to help ease that tension for travelers across the nation, and hope that our travel tips will result in a stress-free weekend for all Labor Day travelers."
Airlines are notorious for skyrocketing prices during peak holiday times. Trying to buy a moderately priced plane ticket at the last minute? Forget about it. Smart-cations are the newest trend, and HotelCoupons.com suggests avoiding the price-gouging by hitting the road for a good old-fashioned road trip.
"More travelers are willing to increase travel time to decrease overall travel costs," continued Novak. "But very few take into account that it can be significantly cheaper for the average family of four to drive to their destination rather than fly, even with hotel costs included."
With travelers being more tech-savvy than ever, online resources help to support the last-minute smart-cation trend. Utilizing sites like HotelCoupons.com at home and downloading the HotelCoupons.com smartphone app for your trip are two great ways to find discounted travel deals.
HotelCoupons.com also recommends that travelers step outside their comfort zones when choosing a destination for this Labor Day weekend. Instead of hitting the popular, run-of-the mill vacation spot, choose the road less traveled. Moving away from the popular, and more than likely overcrowded, destinations makes for a more intimate and meaningful vacation for anyone with a little wanderlust!
To find out more about HotelCoupons.com, its products or great discount travel deals, visit HotelCoupons.com.
About Travel Media Group
Travel Media Group is a leading provider of marketing services for the travel and hospitality industry, enabling travelers to get the best possible prices on hotel rooms. Started more than 30 years ago as the Exit Information Guide, a print publication dedicated to saving families and business travelers money on hotels and attractions, Travel Media Group's offerings have evolved to include brands like HotelCoupons.com and Drive the Nation, all designed to help travelers save time and money.
Through their print publications, desktop and mobile websites, and iPhone, Android and iPad apps, Travel Media Group provides hotel savings in the U.S. for the last-minute traveler.
To learn more about Travel Media Group, visit travelmediagroup.com.
About Dominion Enterprises
Dominion Enterprises is a leading marketing services and publishing company serving the automotive, recreational and commercial vehicle, real estate, apartment rental, employment, parenting, and travel industries. Headquartered in Norfolk, Virginia, with 3,300 employees in the United States, Canada, England, Spain and Italy, the company provides a comprehensive suite of technology-based marketing solutions, and more than 45 market leading websites. Millions of For Rent®, Employment Guide® and HotelCoupons.com® publications are distributed across the U.S. each year.
For more information, visit DominionEnterprises.com.