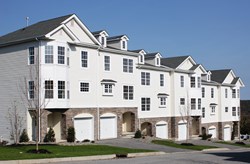 This is a great opportunity to buy one of the best townhomes in Orange County at a great price.
Town of Newburgh, NY (PRWEB) August 19, 2013
John H. Chewens, manager of Better Homes and Gardens Rand Realty's New Windsor NY office, announced today that the final stages of construction are underway at the Lawrence Farm Townhomes community and new units are available for delivery now. Meadow Winds One, LLC, a newly formed real estate development firm, recently acquired the deeds to the 18 unbuilt townhomes of Lawrence Farm and is in the process of completing the project. They are expected to have all units ready for delivery by Spring 2014. Meadow Winds One, LLC is a joint venture of contractor Ray Yannone and investor Wayne Corts, both prominent New York real estate figures with histories of successful real estate projects under their belts.
The Lawrence Farm Townhomes are located on Orleans Drive in the Town of Newburgh, NY. The community consists of 28 townhomes with a total of 14 homes available and 4 ready for move in today. Lawrence Farm Townhomes are between 1613 and 1653 square feet and have 3 bedrooms and 2.5 bathrooms. At an altitude of over 480 feet, Lawrence Farm Townhomes have some spectacular panoramic mountain views of the Hudson Valley. Residents of the townhomes will enjoy access to a swimming pool, a community club house, basketball courts and playgrounds. Students living in the community will have the opportunity to attend the Newburgh Enlarged City School District.
"We are very excited to be working with Ray Yannone and Wayne Corts of Meadow Winds One. The current residents of this community have been patiently waiting for the remainder of their neighborhood to be completed, and we are finally in the home stretch of that becoming a reality," explains John H. Chewens of Better Homes and Gardens Rand Realty. "Even more exciting though, is the opportunity that this creates for someone looking to buy a new home in this market. The Lawrence Farm Townhomes are really beautiful homes located in a great community. We are working hand-in-hand with the best mortgage company in Orange County to deliver great financing options and special financing opportunities for those homebuyers that qualify. With everything that these townhomes come with, along with the financing options that we are able to offer, this is right time for a new homebuyer to get an exceptional value and we don't expect them to last very long. This is a great opportunity to buy one of the best townhomes in Orange County NY at a great price."
Access to Lawrence Farm Townhomes is off of Route 52 in the Town of Newburgh. The property is in close proximity to the NY Thruway I87 and I84 make this location an easy commute to NYC. Metro North is available from Beacon NY for a convenient ride to Grand Central Station.
Homes at Lawrence Farm Townhomes start at $239,000. More information about the development and home amenities being offered can be obtained through the New Windsor office of BHG Rand Realty. Sales agents for the property are Kerri Stretch and Patricia Cole, senior sales consultants and agents of Better Homes and Gardens Rand Realty; they are available for tours of the properties. Kerri may be reached at 845-546-4123 or via email at kerri.stretch(at)randrealty.com and Patricia may be reached at 845-541-1034 or patricia(dot)cole(at)randrealty(dot)com. Special financing incentives per approval are offered through George Zeolla at Hudson United Mortgage. He may be reached at 914-497-7332 or george(dot)zeolla(at)hudsonunited(dot)com.
ABOUT BETTER HOMES AND GARDENS RAND REALTY
Better Homes and Gardens Real Estate - Rand Realty, founded in 1984, is the No. 1 real estate brokerage in the Greater Hudson Valley with over 25 offices serving Westchester, Rockland, Orange, Putnam and Dutchess counties in New York and Bergen and Passaic counties in New Jersey. Rand has more than 800 residential real estate sales associates, as well as a commercial real estate company (Rand Commercial Services), and the Hudson United Group providing residential mortgage lending, title services, and commercial and residential insurance. The companies can be found on the Internet at: http://www.randrealty.com, http://www.randcommercial.com, and http://www.hudsonunited.com . Rand Realty is also on Facebook and Twitter.