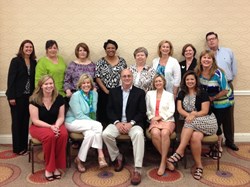 Dallas, TX (PRWEB) August 19, 2013
Recently, John Daugherty, Realtors' Relocation Director Tess Chaney was invited to Dallas for a day to help discuss plans and recommendations for the upcoming 2013 Global Workforce Symposium scheduled for October 23rd-25th in Dallas.
The Symposium attendees will hear from the best and brightest about ideas that will help develop and connect them internationally to their peers. Worldwide ERC brings global mobility professionals from all over the world together to engage in a high-energy learning experience. Attendees will get inspiration from professionals, educators as well as dynamic speakers during the three-day Symposium. Chaney was delighted to give her input and will be attending the Symposium in October.
Worldwide ERC® is the workforce mobility association for professionals who oversee, manage, or support U.S. domestic and international employee transfer. The organization was founded in 1964 to help members overcome the challenges of workforce mobility. Our members come from many professions -- HR; recruiting, government; military; real estate; financial services; moving; counseling; consulting; and more! http://www.WorldwideERC.org
John Daugherty, Realtors has been providing service to Houston and surrounding areas for more than 40 years. They've been number 1 in home sales since 1967 for real estate in the most sought after Houston neighborhoods. Their real estate professionals are always looking to bring their experience and knowledge to help improve the industry. Visit their website today for more information.