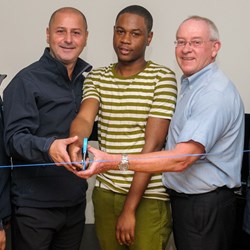 This is giving me a start and once you've got that, you can build mountains.
Toronto, ON (PRWEB) August 20, 2013
A housewarming was held recently for a Covenant House resident who moved into a fully-furnished Hollyburn downtown bachelor unit – the first youth to participate in the new program.
Jason, 22, who holds down two jobs, will pay about one-third of the market rent while he continues to have Covenant House's support to learn the skills to live independently, like budgeting, meal planning and time management. Hollyburn will donate Jason's subsidized rent, about $3,600, to support the agency's services when he completes his year.
"We are thrilled to be working with Hollyburn in this innovative partnership. It will enable our youth to gain real life experience with our support and stable and affordable housing. Hollyburn is helping us to give our kids the confidence and skills they need to transition successfully to independence," says Bruce Rivers, Covenant House Executive Director. "We look forward to building on this relationship to offer more young people this important opportunity."
"Rather than simply writing a cheque to charity, we want to take an active role in the community," says Hollyburn Ontario General Manager Mike Capone. "We hope other property management companies will be encouraged to follow suit in this initiative of compassion, community and corporate responsibility."
As well as providing Jason with support, Covenant House will help him find his own place within his budget when the year is up. He will be able to take his furniture with him when he moves out.
"It was the answer to my prayers," says Jason. "This is giving me a start and once you've got that, you can build mountains. I'm so grateful for this opportunity."
For the past six years, Hollyburn has had a similar partnership with Covenant House Vancouver in that city.
The Hollyburn partnership is part of Covenant House's new Stable Housing Plan to offer more youth housing in the community while they continue to access the agency's support, Rivers explains. The plan includes leasing or acquiring market value and subsidized apartments or condos. By next summer, the agency hopes to have housing for ten youth.
With record-high daily numbers of youth staying at the agency's shelter, Rivers says homeless young people are more "stuck" and less able to move forward for several reasons.
"The city's affordable housing crisis presents a major challenge for homeless youth. Often this is compounded by their lack of basic life skills so they need our ongoing help to make their own way successfully," Rivers says. "We see Covenant House as the hub of a wheel with a full range of support and our new community housing opportunities as the spokes."
Covenant House, the country's largest homeless youth agency, offers the broadest range of services under one roof, including crisis shelter and longer-term housing, employment and educational assistance. Last year, the agency served about 3,000 youth.
Hollyburn Properties is among the largest Canadian-owned and operated property management companies in the country with fine rental apartments in 71 buildings in Toronto, Ottawa, Calgary and Vancouver. Hollyburn is a proud partner of several organizations within its communities.