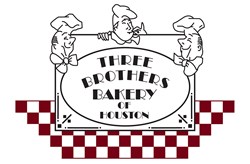 "This poll in particular gave us a chance to include a new flavor in our cupcake line, as decided by our customers, the people whose opinions we value most." - Bobby Jucker
Houston, TX (PRWEB) August 19, 2013
In honor of Cupcake Day on August 19th, Three Brothers Bakery is expanding its cupcake line with the addition of one new, unique flavor. The bakery turned to the public and its loyal customers to help decide on what the new flavor would be, conducting a cupcake poll, in-store, to determine which flavor was most popular. The options included S'Mores, Peanut Butter & Jelly, Margarita, Gingerbread and Orange Dreamsicle.
The poll began August 5th at both bakery locations, and ended August 19th, when voting closed and the new flavor, S'Mores, was announced as the ultimate winner. Customers were able to sample each cupcake free of charge, and could cast their vote by purchasing one of their favorite flavors.
Each of these jumbo cupcakes were carefully crafted following a long process of taste testing. The Peanut Butter & Jelly cupcake was a strawberry fruit-filled white cake with peanut butter buttercream frosting. The bakery's Margarita cupcake was a delicious white cake, washed with tequila and filled and topped with margarita tequila buttercream. The Orange Dreamsicle cupcake was a sweet white cake, filled with cream cheese and topped with an orange buttercream frosting. Three Brothers recreated its famous gingerbread in cupcake form with its Gingerbread cupcake, featuring gingerbread cake filling and topped with cinnamon cream cheese icing.
In the end, only one cupcake could beat the rest and become a permanent fixture in the bakery's cupcake collection. A chocolate cake base with marshmallow cream filling, the S'Mores cupcake, was topped with buttercream and a chocolate dipped graham cracker, and was the favorite among voters. Customers can now purchase the S'Mores cupcakes year-round.
Public participation in the poll was strongly encouraged through the bakery's presence on social media platforms such as Facebook and Twitter, where followers and fans were invited to come into the bakery and contribute to the final decision. Celebrity media judges, including Eric Sandler from CultureMap, Ted Powers from the Jewish Herald Voice and Molly Dunn from Houston Press were also invited to cast their votes for their favorite cupcake.
"Polls have been a great way for us to interact with our customers in the past," said Bobby Jucker, co-owner and fifth generation baker. "This poll in particular gave us a chance to include a new flavor in our cupcake line, as decided by our customers, the people whose opinions we value most."
For more information regarding Three Brothers Bakery, the Cupcake Day poll or any of the bakery's sweet treats, please contact Allison Huseman at 713-225-0880 or allison(at)integratepr(dot)com.
About Three Brothers Bakery
The traditions of Three Brothers Bakery began in Chrzanow, Poland circa 1825, and were preserved despite the family's concentration camp imprisonment during the Holocaust. Their miraculous liberation, and subsequent move to Houston, brought Eastern European scratch baking traditions to 4036 S. Braeswood Blvd and 12393 Kingsride Lane, where the owners are now proud to call themselves "memory makers who just happen to be bakers." Perfecting the process for almost 200 years, each day the fifth generation bakers produce mostly dairy-free breads and pastries, cookies, a full line of specialty dessert cakes and pies, as well as custom birthday, special occasion, wedding and groom's cakes using only the highest quality ingredients.
The Three Brothers Bakery pecan pie was named "the best mail order pecan pie America has to offer" by Country Living magazine, and most recently, bakery owner, Bobby Jucker competed in the popular 'Food Network Challenge' and has been seen on Food Network's Outrageous Food. Three Brothers won "1st Place Cupcake 2012" from Retail Bakers of America as well as "Best Mail-Order Pies 2012" from Bon Apetit. The bakery also won Modern Baking's "2013 Retail Bakery of the Year" and was part of The Knot's "2010-2013 Best of Weddings" picks. Three Brothers Bakery is a certified Woman-Owned Business through the Women's Business Enterprise National Council, and a State of Texas Historically Underutilized Business.
Follow Three Brothers Bakery on Facebook and Twitter for Houston area news, information and events.