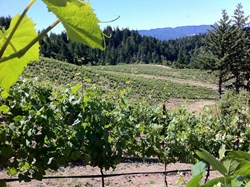 I am honored that John (Gilman) rated four Bravium wines 90 points or higher and enjoyed reading his article on wines of place and detailed review of each wine
San Francisco, CA (PRWEB) August 19, 2013
While many winemakers today produce wines that one might enjoy in their youth, there are not many wineries that are successfully producing vintages that age well. Bravium Winery was included in a group of emerging neo-classical Pinot Noir producers by wine critic John Gilman. Four of Bravium's 2011 bottlings received high ratings from Gilman, which he discusses in more detail in his esteemed online publication, View From the Cellar.
Derek Rohlffs, Bravium's Proprietor and Winemaker, was greatly influenced in his early winemaking days by a retrospective tasting he experienced at Mayacamas Vineyards during his first visit to Napa Valley. His father Duke attended High School with Bob Travers and had remained friends with him and his wife Noni, who invited Duke and Derek to join the Travers for a tasting of their 1970′s and 1980′s era Chardonnay and Cabernet Sauvignon. The structure and vitality these wines possessed and their renown ageability captivated Derek and led him to research the role of vineyard siting and acidity in winemaking.
"I am honored that John (Gilman) rated four Bravium wines 90 points or higher and enjoyed reading his article on wines of place and detailed review of each wine," says Derek Rohlffs, Bravium's proprietor and winemaker. "Notably, he has many of Bravium's wines aging well through 2035 and with the invigorating acid structure inherent in my wines, I agree that these will be drinking well for decades to come."
The 2011 Bravium "Signal Ridge Vineyard Dragonfly Block" Pinot Noir received a rating of 91+ points from Gilman, who expects the wine to fully blossom from 2015 to 2035. The 2011 Bravium "Signal Ridge Vineyard Sundance Block" Pinot Noir, which garnered 92 points, will age well from 2015 to 2035; while the 2011 Bravium "Sonoma Coast" Pinot Noir received 90 points and will reach maturity between 2014 and 2030. Bravium's 2011 "Volamus Vineyard" Pinot Noir was highlighted as "one of the finest of a very good range of bottlings of this varietal that I tasted from this winery...the wine is fresh, pure and complex on both the nose and palate. Lovely juice in the making." Gilman gave this wine a rating of 92 points with full development from 2015 to 2035.
Derek poured many of these wines for the first time for over 2,000 members of the wine trade at Family Winemakers of California's San Francisco Tasting on August 17th and 18th. Bravium's Sonoma Coast Pinot Noir bottlings sold out at the event.
View From the Cellar is thoughtful and comprehensive in its coverage of wineries making traditional wines with a distinct sense of place. Editorial content is split evenly between coverage of new releases and historical pieces on the world's top wine producers and vertical tasting reports of their wines.
For more information about Derek Rohlffs and Bravium, please visit bravium.com. To buy wines from Bravium, go to http://wineshop.braviumwine.com/. The winery tasting room at 995 Ninth St., Treasure Island, in San Francisco is open Saturdays and Sundays from 1 to 5 p.m. Follow Bravium on Twitter at twitter.com/InfamousWinemkr or like it on Facebook at facebook.com/bravium.
About Bravium
Bravium produces vineyard-designated Pinot Noir and Chardonnay. Bravium wines are produced in small quantities [96 to 448 cases per wine] and are sold direct to mailing list members and in select retail and restaurant placements. Bravium gives back to charitable organizations through its Sip&Give donation platform. The name Bravium (Latin for "reward, prize or gift") dovetails with the Sip&Give campaign that Derek made a part of the winery's DNA at its founding. A portion of the proceeds from the sale of all Bravium wines support Sip&Give. Sip&Give features a variety of worthy charities including the Leukemia & Lymphoma Society, Community Gatepath, Peninsula Humane Society/SPCA, Bonnie J. Addario Lung Cancer Foundation, and Slow Food USA. More than $15,000 in cash and wine has been gifted to Sip&Give's beneficiary charities this year.