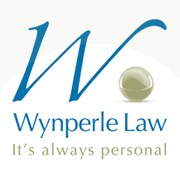 Toronto, ON (PRWEB) August 27, 2013
The Greater Toronto Area is a host to many unfortunate incidents and accidents each and every day. It's easy to see how these scenarios happen, as millions of people go about their business. Whether it's an automobile accident during rush hour, a customer slipping on an icy sidewalk outside a local business, or a victim being assaulted over a petty manner in the street, personal injuries are a critical issue that cause serious and lasting harm to the victims. Wynperle Law is a Hamilton-based personal injury law firm who represents clients seeking arbitration after an accident leaves them injured or incapacitated in some way. Wynperle Law has earned a reputation as a compassionate, tenacious, and dedicated firm, and as such has been dealing with a high number of clients seeking justice.
In light of the high demand for their services, as well as the distance that some clients had to travel, Wynperle Law is announcing an expansion that targets these specific issues. First of all, there will be a staff expansion, including qualified lawyers to better serve the needs of the public. Secondly, a new office is being opened in the Guelph region of Ontario to allow greater accessibility to their services.
Personal injuries can range from minor to severe, and the effects can last a life time. When a person has their mobility limited or are disabled after an accident, their lives dramatically change. A personal injury law firm is often their best shot at acquiring the arbitration they need to move on fully from the initial incident. With this new location and employment, Wynperle Law hopes to help many victims in need.
For more information, visit Wynperle Law online at http://www.wynperlelaw.ca Wynperle Law Local: 905-777-0300 Toll Free: 866-688-3353 25 Main St. West, Suite 400 Hamilton, Ontario L8P 1H1 http://www.wynperlelaw.ca
Wynperle Law
Local: 905-777-0300
Toll Free: 866-688-3353
25 Main St. West, Suite 400
Hamilton, Ontario
L8P 1H1