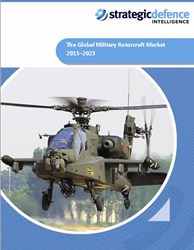 Rockville, MD (PRWEB) August 21, 2013
The Global Military Rotorcraft Market 2013–2023
"The Global Military Rotorcraft Market 2013–2023" provides detailed analysis of the current industry size and growth expectations from 2013 to 2023, including highlights of key growth stimulators. It also benchmarks the industry against key global markets and provides detailed understanding of emerging opportunities in specific areas.
Military helicopter manufacturers are understandably anxious, primarily due to the expected US$700 billion defense budget cuts between 2012 and 2023. Even though helicopters are expected to be the one of the least affected segments, the market sentiments are cautious with regards to future expenditure. Traditionally, North America and Europe accounted for 80% of global defense expenditure. However, the global economic downturn, US economic crisis, and European debt crisis are expected to negatively impact defense expenditure over the forecast period.
Owing to limited budgets, many countries worldwide are looking to replace their helicopter fleet with unmanned aerial vehicles (UAVs). The reasons for this are that UAVs are cheaper, do not require support, and their pilots can fly from the safety of a control room. Owing to dangerous operations in Afghanistan and Iraq which have resulted in a low tolerance for casualties by the public, UAVs are considered to be ideal to prevent unnecessary loss of life.
At the cyber-security world summit held in 2010, security experts raised credible issues such as crashing power grids, stalled air control towers, hospital infrastructure being rendered useless, and national defenses being susceptible to outside attacks. New technologies such as cloud computing, social networking, and the proliferation of mobile devices have also resulted in an increase of cyber attacks. The governments of the UK, the US, France, Belgium, Germany, and India have stated that their systems and networks were infiltrated by criminal networks. Such incidents are expected to augment a sustainable demand for cyber security over the forecast period.
Several developing countries around the world have also embarked on ambitious acquisition programs for military helicopters while others are developing their own domestic manufacturing capabilities. Bell helicopter, which has the largest market share in terms of military helicopter sales, recently stated that India was its fastest-growing market globally with a growth rate of 17% compared to less than 5% for Europe and the US.
To order this report:
The Global Military Rotorcraft Market 2013–2023
Contact: Shauna
800.298.5699
Customerservice(at)marketresearch(dot)com
About Strategic Defence Intelligence
Strategic Defence Intelligence provides a stream of continuously updated customer and competitor intelligence, as well as detailed research reports providing an unrivalled source of global information on the latest developments in the defence industry. Strategic Defence Intelligence's unique monitoring platform tracks global defence activity for over 2,500 companies and 65 product categories in real time and in a highly structured manner, giving a comprehensive and easily-searchable picture of all defence industry activity.
About MarketResearch.com
MarketResearch.com is the leading provider of global market intelligence products and services. With research reports from more than 720 top consulting and advisory firms, MarketResearch.com offers instant online access to the world's most extensive database of expert insights on global industries, companies, products, and trends. Moreover, MarketResearch.com's Research Specialists have in-depth knowledge of the publishers and the various types of reports in their respective industries and are ready to provide research assistance. For more information, call Cindy Frei at 240.747.3014 or visit http://www.marketresearch.com
Follow us on Facebook http://www.facebook.com/marketresearchdotcom
Follow us on Twitter http://www.twitter.com/marketresearch_
The Global Military Rotorcraft Market 2013–2023 – Table of Contents:
1 Introduction
2 Executive Summary
3 Global Military Rotorcraft Market Size and Drivers
3.1 Military Rotorcraft Market Size and Forecast 2013–2023
3.1.1 Global military rotorcraft market to witness a slight decline over the forecast period
3.2 Global Military Rotorcraft Market – Regional Analysis
3.2.1 North America constitutes the majority share in the global military rotorcraft market
3.2.2 US expenditure on military rotorcraft to remain robust despite budget cuts; Canada to witness decline in expenditure
3.2.3 European military rotorcraft markets expected to decline due to budget cutbacks
3.2.4 Military rotorcraft market in the Asia-Pacific region expected to maintain consistent levels of growth over the forecast period
3.2.5 Middle Eastern military rotorcraft market to be robust during the forecast period
3.2.6 Brazil to dominate the military rotorcraft market in Latin America
3.2.7 African markets expected to show a minimal decline over the forecast period
3.3 Military Rotorcraft Sub–Sector Market Size Composition
3.3.1 Multi-mission helicopters expected to constitute the largest share of the global rotorcraft market
3.3.2 Market size of multi-mission helicopters expected to be robust throughout the forecast period
3.3.3 Attack helicopters to form the second largest market segment over the forecast period
3.3.4 Expenditure on transport helicopters expected to rise at a CAGR of 2.41% over the forecast period
3.3.5 Market for maritime helicopters expected to witness a marginal increase during the forecast period
3.3.6 Reconnaissance helicopters market expected to grow at a CAGR of 3.51% over the forecast period
3.3.7 Market size of training helicopters expected to decline over the forecast period
3.4 Demand Drivers and Growth Stimulators
3.4.1 Increase in low intensity conflicts and peacekeeping missions propel demand for military rotorcraft
3.4.2 Modernization initiatives will drive the demand for military rotorcraft
3.4.3 Disaster relief operations to fuel demand for multi–mission and rescue helicopters
3.5 Defense Budget Spending Review
3.5.1 European capital expenditure expected to increase during the forecast period
3.5.2 Asian defense budgets expected to increase at a robust pace
3.5.3 North American defense expenditure projected to decline marginally during the forecast period
3.5.4 Modernization programs likely to drive defense expenditure in South American countries
3.5.5 Military budgets of African countries expected to increase during the forecast period
3.5.6 Defense budgets of Middle Eastern countries likely to increase during the forecast period
3.6 Defense Modernization Review
3.6.1 Debt crisis in Europe leading to postponement of modernization plans
3.6.2 Arms race in Asia reflected in modernization plans
3.6.3 North American modernization plans marginally affected by economic recession
3.6.4 Modernization programs in South America driven by replacement of obsolete armaments
3.6.5 African countries mainly spending on infantry weapons, and surveillance and monitoring equipment to slow growing crime rate
3.6.6 Middle Eastern countries pursuing modernization of Air Force and air defense systems
4 Industry Trends, Recent Developments, and Challenges
4.1 Technological Developments
4.1.1 Lightweight oxygen cylinders being equipped on helicopters
4.1.2 Helmets which enable helicopter pilots to land during brownouts
4.1.3 Hybrid vehicle capable of flying as well as travelling on road being developed
4.1.4 Helicopters being enhanced with advanced stealth capabilities to perform special operations
4.1.5 Development of the optionally manned helicopter
4.1.6 Nanotubes to enhance helicopter performance being developed
4.2 Market Trends
4.2.1 Manufacturers producing variants of helicopters
4.2.2 Multi-mission helicopters gaining prominence worldwide
4.3 Industry Consolidation
4.3.1 Joint research and development programs expected to increase over the forecast period
4.3.2 Technology agreements to increase in the military rotorcraft market
4.4 Key Challenges
4.4.1 Global defense budget cuts expected to have an impact on military rotorcraft market
4.4.2 Technology transfers and program delays to cause cost overruns
5 SWOT Analysis of the Rotorcraft Market
6 Country Analysis – Rotorcraft Market
7 Major Military Rotorcraft Programs
7.1 Transport Helicopter
7.1.1 CH-53K - US
7.1.2 KUH Surion - Korea
7.1.3 CH-47 Chinook - US
7.2 Attack Helicopters
7.2.1 AH-64 Apache
7.2.2 Korea Attack Helicopter (KAH) Program
7.2.3 EC-665 Tiger Attack Helicopter
7.3 Reconnaissance and Observation Helicopters
7.3.1 OH-58F- US
7.3.2 Light Observation Helicopters - India
7.4 Maritime Helicopters
7.4.1 CH-148 - Canada
7.4.2 MH-60R – South Korea
7.4.3 MH-60R - Qatar
7.5 Training Helicopters
7.5.1 MD-530F - US
7.5.2 TH-480B - Japan
7.6 Multi-Mission Helicopters
7.6.1 T–70 - Turkey
7.6.2 Cheetah and Chetak Replacement – India
8 Competitive Landscape and Strategic Insights
9 Appendix
List of Tables
List of Figures