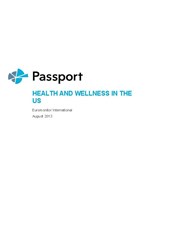 Rockville, MD (PRWEB) August 22, 2013
Health and Wellness in the US
Total health and wellness food and beverage sales in the US recovered in 2012 but at a lower level than in 2011. Much of the slowdown is due to a reduction in unit prices of drinking milk in 2012 as milk and other dairy products contribute a big portion to the overall health and wellness food market. At the same time, the recovery of the US economy is allowing consumers to pay more for health foods.
Euromonitor International's Health and Wellness in USA report tracks the developments of health-associated product types and the healthy-option positioning of competing brands across different food sectors. It provides the latest retail sales data 2008-2012, allowing you to compare health and wellness categories with each other or in the context of the total market for a sector. It identifies the leading companies, the leading brands and offers strategic analysis of key factors influencing the market- be they new product developments, legislative context or lifestyle influences. Forecasts to 2017 illustrate how the market is set to change.
Product coverage: Health and Wellness by Category, Health and Wellness by Prime Positioning, Health and Wellness by Type.
Data coverage: market sizes (historic and forecasts), company shares, brand shares and distribution data.
Why buy this report?
-Get a detailed picture of the Health and Wellness market;
-Pinpoint growth sectors and identify factors driving change;
-Understand the competitive environment, the market's major players and leading brands;
-Use five-year forecasts to assess how the market is predicted to develop.
To order this report:
Health and Wellness in the US
Contact: Shauna
800.298.5699
Customerservice(at)marketresearch(dot)com
About Euromonitor International
Euromonitor International has over 40 years' experience of publishing market research reports, business reference books and online information systems. With offices in London, Chicago, Singapore, Shanghai, Vilnius, Dubai, Cape Town, Santiago, Sydney, Tokyo and Bangalore and a network of over 800 analysts worldwide, Euromonitor International has a unique capability to develop reliable information resources to help drive informed strategic planning.
About MarketResearch.com
MarketResearch.com is the leading provider of global market intelligence products and services. With research reports from more than 720 top consulting and advisory firms, MarketResearch.com offers instant online access to the world's most extensive database of expert insights on global industries, companies, products, and trends. Moreover, MarketResearch.com's Research Specialists have in-depth knowledge of the publishers and the various types of reports in their respective industries and are ready to provide research assistance. For more information, call Cindy Frei at 240.747.3014 or visit http://www.marketresearch.com
Follow us on Facebook http://www.facebook.com/marketresearchdotcom
Follow us on Twitter http://www.twitter.com/marketresearch_
Health and Wellness in the US – Table of Contents:
Executive Summary
Health and Wellness Grows at Slower Pace in 2012
Food Makers Focus on Gluten-free Products
PepsiCo Is Leader in Health and Wellness
Supermarkets Leading Channel for Health and Wellness Products
Forecast Growth To Be Driven by Baby Boomers and Parents
Key Trends and Developments
Consumers Demand To Know What Is in Their Food
Gluten-free Becomes the Trendiest Health Trend
Fight Over Gmos
Government Attempts To Reduce Child Obesity
Meeting the Needs of the Ageing US Population
Market Data
Table 1 Sales of Health and Wellness by Type: Value 2007-2012
Table 2 Sales of Health and Wellness by Type: % Value Growth 2007-2012
Table 3 Sales of Health and Wellness by Category: Value 2007-2012
Table 4 Sales of Health and Wellness by Category: % Value Growth 2007-2012
Table 5 Sales of Health and Wellness by Prime Positioning: Value 2007-2012
Table 6 Sales of Health and Wellness by Prime Positioning: % Value Growth 2007-2012
Table 7 Health and Wellness GBO Company Shares 2008-2012
Table 8 Health and Wellness NBO Company Shares 2008-2012
Table 9 Health and Wellness NBO Brand Shares 2009-2012
Table 10 Forecast Sales of Health and Wellness by Type: Value 2012-2017
Table 11 Forecast Sales of Health and Wellness by Type: % Value Growth 2012-2017
Table 12 Forecast Sales of Health and Wellness by Category: Value 2012-2017
Table 13 Forecast Sales of Health and Wellness by Category: % Value Growth 2012-2017
Table 14 Forecast Sales of Health and Wellness by Prime Positioning: Value 2012-2017
Table 15 Forecast Sales of Health and Wellness by Prime Positioning: % Value Growth 2012-2017
Sources
Summary 1 Research Sources
Appendix
National Legislation
Advertising
Hain Celestial Group Inc, the in Health and Wellness (usa)
Strategic Direction
Key Facts
Summary 2 The Hain Celestial Group: Key Facts
Summary 3 The Hain Celestial Group: Operational Indicators
Company Background
Competitive Positioning
Summary 4 The Hain Celestial Group: Competitive Position 2012
Hint Inc in Health and Wellness (usa)
Strategic Direction
Key Facts
Summary 5 Hint Inc: Key Facts
Company Background
Competitive Positioning
Nature's Path Foods Inc in Health and Wellness (usa)
Strategic Direction
Key Facts
Summary 6 Nature's Path Foods Inc: Key Facts
Company Background
Competitive Positioning
Summary 7 Nature's Path Foods Inc: Competitive Position 2010
Headlines
Trends
Competitive Landscape
Prospects
Category Data
Table 16 Sales of BFY Beverages by Category: Value 2007-2012
Table 17 Sales of BFY Beverages by Category: % Value Growth 2007-2012
Table 18 BFY Beverages NBO Company Shares 2008-2012
Table 19 BFY Beverages NBO Brand Shares 2009-2012
Table 20 Forecast Sales of BFY Beverages by Category: Value 2012-2017
Table 21 Forecast Sales of BFY Beverages by Category: % Value Growth 2012-2017
Headlines
Trends
Competitive Landscape
Prospects
Category Data
Table 22 Sales of BFY Packaged Food by Category: Value 2007-2012
Table 23 Sales of BFY Packaged Food by Category: % Value Growth 2007-2012
Table 24 BFY Packaged Food NBO Company Shares 2008-2012
Table 25 BFY Packaged Food NBO Brand Shares 2009-2012
Table 26 Forecast Sales of BFY Packaged Food by Category: Value 2012-2017
Table 27 Forecast Sales of BFY Packaged Food by Category: % Value Growth 2012-2017
Headlines
Trends
Competitive Landscape
Prospects
Category Data
Table 28 Sales of Food Intolerance by Category: Value 2007-2012
Table 29 Sales of Food Intolerance by Category: % Value Growth 2007-2012
Table 30 Lactose-free Dairy Products by Type: % Value Breakdown 2007-2012
Table 31 Food Intolerance NBO Company Shares 2008-2012
Table 32 Food Intolerance NBO Brand Shares 2009-2012
Table 33 Forecast Sales of Food Intolerance by Category: Value 2012-2017
Table 34 Forecast Sales of Food Intolerance by Category: % Value Growth 2012-2017
Headlines
Trends
Competitive Landscape
Prospects
Category Data
Table 35 Sales of Fortified/Functional Beverages by Category: Value 2007-2012
Table 36 Sales of Fortified/Functional Beverages by Category: % Value Growth 2007-2012
Table 37 Key Functional Ingredients in Fortified/Functional Bottled Water: % Breakdown 2007-2012
Table 38 Key Functional Ingredients in Fortified/Functional Non-Cola Carbonates: % Breakdown 2007-2012
Table 39 Key Functional Ingredients in Fortified/Functional 100% Juice: % Breakdown 2007-2012
Table 40 Key Functional Ingredients in Fortified/Functional Juice Drinks (up to 24% juice): % Breakdown 2007-2012
Table 41 Key Functional Ingredients in Fortified/Functional Nectars (25-99% juice): % Breakdown 2007-2012
Table 42 Key Functional Ingredients in Fortified/Functional RTD Tea: % Breakdown 2007-2012
Table 43 Fortified/Functional Beverages NBO Company Shares 2008-2012
Table 44 Fortified/Functional Beverages NBO Brand Shares 2009-2012
Table 45 Forecast Sales of Fortified/Functional Beverages by Category: Value 2012-2017
Table 46 Forecast Sales of Fortified/Functional Beverages by Category: % Value Growth 2012-2017
Headlines
Trends
Competitive Landscape
Prospects
Category Data
Table 47 Sales of Fortified/Functional Packaged Food by Category: Value 2007-2012
Table 48 Sales of Fortified/Functional Packaged Food by Category: % Value Growth 2007-2012
Table 49 Key Functional Ingredients in Fortified/Functional Biscuits: % Breakdown 2007-2012
Table 50 Key Functional Ingredients in Fortified/Functional Breakfast Cereals: % Breakdown 2007-2012
Table 51 Key Functional Ingredients in Fortified/Functional Bread: % Breakdown 2007-2012
Table 52 Key Functional Ingredients in Fortified/Functional Chocolate Confectionery: % Breakdown 2007-2012
Table 53 Key Functional Ingredients in Fortified/Functional Chewing Gum: % Breakdown 2007-2012
Table 54 Key Functional Ingredients in Fortified/Functional Sugar Confectionery: % Breakdown 2007-2012
Table 55 Key Functional Ingredients in Flavoured Milk Drinks: % Breakdown 2007-2012
Table 56 Key Functional Ingredients in Fortified/Functional Milk: % Breakdown 2007-2012
Table 57 Key Functional Ingredients in Fortified/Functional Dairy-based Yoghurt: % Breakdown 2007-2012
Table 58 Key Functional Ingredients in Fortified/Functional Spreadable Oils and Fats: % Breakdown 2007-2012
Table 59 Key Functional Ingredients in Fortified/Functional Breakfast Bars: % Breakdown 2007-2012
Table 60 Fortified/Functional Packaged Food NBO Company Shares 2008-2012
Table 61 Fortified/Functional Packaged Food NBO Brand Shares 2009-2012
Table 62 Fortified/Functional Bread NBO Brand Shares 2009-2012
Table 63 Forecast Sales of Fortified/Functional Packaged Food by Category: Value 2012-2017
Table 64 Forecast Sales of Fortified/Functional Packaged Food by Category: % Value Growth 2012-2017
Headlines
Trends
Competitive Landscape
Prospects
Category Data
Table 65 Sales of NH Beverages by Category: Value 2007-2012
Table 66 Sales of NH Beverages by Category: % Value Growth 2007-2012
Table 67 NH Beverages NBO Company Shares 2008-2012
Table 68 NH Beverages NBO Brand Shares 2009-2012
Table 69 Forecast Sales of NH Beverages by Category: Value 2012-2017
Table 70 Forecast Sales of NH Beverages by Category: % Value Growth 2012-2017
Headlines
Trends
Competitive Landscape
Prospects
Category Data
Table 71 Sales of NH Packaged Food by Category: Value 2007-2012
Table 72 Sales of NH Packaged Food by Category: % Value Growth 2007-2012
Table 73 NH Packaged Food NBO Company Shares 2008-2012
Table 74 NH Packaged Food NBO Brand Shares 2009-2012
Table 75 Forecast Sales of NH Packaged Food by Category: Value 2012-2017
Table 76 Forecast Sales of NH Packaged Food by Category: % Value Growth 2012-2017
Headlines
Trends
Competitive Landscape
Prospects
Category Data
Table 77 Sales of Organic Beverages by Category: Value 2007-2012
Table 78 Sales of Organic Beverages by Category: % Value Growth 2007-2012
Table 79 Organic Beverages NBO Company Shares 2008-2012
Table 80 Organic Beverages NBO Brand Shares 2009-2012
Table 81 Forecast Sales of Organic Beverages by Category: Value 2012-2017
Table 82 Forecast Sales of Organic Beverages by Category: % Value Growth 2012-2017
Headlines
Trends
Table 83 Sales of Organic-functional Yoghurt: Value 2010-2012
Competitive Landscape
Prospects
Category Data
Table 84 Sales of Organic Packaged Food by Category: Value 2007-2012
Table 85 Sales of Organic Packaged Food by Category: % Value Growth 2007-2012
Table 86 Organic Packaged Food NBO Company Shares 2008-2012
Table 87 Organic Packaged Food NBO Brand Shares 2009-2012
Table 88 Forecast Sales of Organic Packaged Food by Category: Value 2012-2017
Table 89 Forecast Sales of Organic Packaged Food by Category: % Value Growth 2012-2017