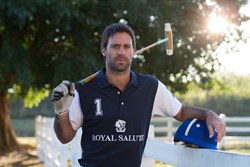 Greenwich, Connecticut (PRWEB) August 20, 2013
Facundo will captain the Royal Salute team, and play alongside longstanding high-goal patron, Peter Brant, Steve Lefkowitz and Facundo's brother-in-law Mariano Aguerre.
Royal Salute is a leading international supporter of polo, 'the king of sports and the sport of kings' and this year's Royal Salute Jubilee Cup VIP hospitality event takes place in the beautiful grandstand at Greenwich Polo Club. Local, national and international VIP guests will be treated to the award winning L'Escale restaurant's afternoon tea, and a specially curated whisky salute to celebrate the match. Prior to the match, VIPs will enjoy a private tour of the exhibition, ANDY WARHOL at The Brant Foundation Art Study Center.
Norton & Sons, British tailors since 1821, has created a bespoke Most Valuable Player jacket to be awarded to the MVP of the match, to be presented by England player Malcolm Borwick.
Waterford Crystal, specialist crystal designers since 1783, has generously donated a magnificent handmade crystal trophy for the winning team, together with player gifts of bespoke whisky tumblers.
Note to Editors:
Event Details: General admission tickets can be purchased at the gate
Greenwich Polo Club, North Street, Greenwich 06831,CT
The USPA Royal Salute Jubilee Cup polo match begins at 3:00 p.m., gates open for picnicking at 1pm. There will be a traditional half time divot stomp at 3:45 p.m., match ends at 4:30 p.m. followed by salute to the players and horses and prize giving at 16:45. Greenwich Polo Club closes at 6 p.m.. Driving directions and details at http://www.greenwichpoloclub.com.
About Royal Salute
Royal Salute is the world's leading luxury Scotch whisky, and begins where others end as only whiskies matured for at least 21 years are ever selected for Royal Salute blends. In 2012, Royal Salute became the first ever brand to be officially associated with the Royal Gun Salutes at the Tower of London, as part of a long-term partnership with the independent charity Historic Royal Palaces.
Royal Salute is a leading international supporter of polo, 'the king of sports and the sport of kings'. Royal Salute World Polo is truly international with a presence in every major region globally:

Argentina Campeonado Abierto de Polo, Palermo, Buenos Aires
Australia Sydney Gold Cup, Sydney and Portsea Polo, Victoria
Brazil Sentebale Royal Salute Polo Cup, São Paulo and Copa Ouro São José Polo, São Paulo
China Royal Salute China Open, Beijing
India Royal Salute Maharaja of Jodhpur Golden Jubilee Cup, Jodphur
Italy Polo Gold Cup, Cortina d' Ampezzo
South Korea Royal Salute Polo Cup, Jeju
Snow Polo, Baqueira, Lérida and Sotogrande, Cádiz
UAE Royal Salute Nations Cup, Dubai
USA Foundation Polo Challenge, Santa Barbara and Royal Salute Jubilee Cup, Greenwich, Connecticut
UK The Sentebale Polo Cup, Coworth Park, Kent & Curwen Polo Club, London
And Beaufort Polo Cup, Tetbury
About Chivas Brothers
Chivas Brothers is the Scotch whisky and premium gin business of Pernod Ricard – the world's co-leader in wine and spirits. Chivas Brothers is the global leader in luxury Scotch whisky with a portfolio that includes Chivas Regal, Ballantine's, Beefeater Gin, The Glenlivet, Royal Salute, Aberlour, Plymouth Gin, Longmorn, Scapa, 100 Pipers, Clan Campbell, Something Special and Passport. http://www.chivasbrothers.com
About Greenwich Polo Club
Established in 1981 by Peter Brant, the Greenwich Polo Club is the venue for high-goal polo in the Northeast. Nestled in the beautiful backcountry of Greenwich, CT and internationally recognized for its rosters of legendary teams and players, Greenwich Polo Club hosts public USPA high-goal polo matches on Sundays in June, July and September. http://www.greenwichpoloclub.com
About Norton & Sons
Norton & Sons was established in 1821 by Walter Norton as tailors to the Gentlemen of the City of London. The firm gained eminence as a sporting tailor, making sharply cut garments for rugged and robust outdoorsmen. Men such as King Edward VII, Wilfred Thesiger and the young Winston Churchill, for whom they made everything from dinner suits to racing silks. http://www.nortonandsons.co.uk/
About Waterford Crystal
Founded by William and George Penrose, Waterford was established in the heart of the Irish harbor town of Waterford in 1783. Today, Waterford is known worldwide for creating crystal and glass drinkware, crystal gifts and home accessories of unsurpassed beauty and quality. http://www.waterford.com
For further information:
Visit: http://www.chivasbrothers.com and http://www.royalsalute.com