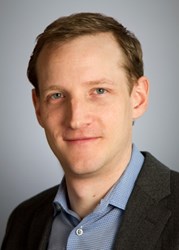 I am very excited to have Brian join our executive team. Brian brings a wealth of new knowledge and talent to Deep Domain that will help propel us forward.
Redmond, WA (PRWEB) August 20, 2013
Deep Domain, Inc., a leading provider of analytic and electronic health record (EHR) reporting software, today announced that Brian Finrow, has joined the company as it's Chief Business Officer. Finrow will focus on driving Deep Domain's strategic relationships and position the company for growth.
Finrow recently held positions as General Counsel at AltAir Fuels, LLC, a biofuels company and Chief Business Officer and General Counsel at Provitro Biosciences, an early-stage agricultural biotechnology company. Previously, Finrow was a Senior Attorney at Cooley LLP (formerly Venture Law Group) where he advised angel-and VC-backed technology companies for almost a decade through hundreds of corporate partnering and joint ventures, mergers and acquisitions, venture capital financings, public offerings, technology licensing deals and corporate partnerships. Finrow has deep experience working with technology companies including: ChartConnect (early EMR company; acquired by CompuGroup Medical), MedManage Systems (retail drug sample automation; acquired by Physicians Interactive), Free & Clear (health services; acquired by Alere Healthcare), Genoa Healthcare (nationwide chain of specialty pharmacies), Zettics (f/k/a Ground Truth; data analytics), Varolii Corp. (SaaS customer interaction automation), and Qpass Inc. (mobile billing and analytics; acquired by Amdocs).
Finrow earned a J.D. from Harvard Law School and a B.S. in Public Administration and B.A. in Political Science from Harding University.
Finrow states, "It is certainly a privilege to be given the opportunity to join the Deep Domain management team. With Deep Domain's team, robust technology and market demand, I'm optimistic about the opportunities ahead for us. Over the last three years, there has been an avalanche of change in our healthcare system, and Deep Domain is uniquely positioned to capitalize on a series of breakthroughs in health IT, cloud computing and complex data visualization and analysis."
Finrow will join the executive management team members Howard Mahran, CEO and founder, Debra Griffith, Chief Financial Officer and Perry Skountrianos, Chief Technology Officer and founder.
"I am very excited to have Brian join our executive team. Brian brings a wealth of new knowledge and talent to Deep Domain that will help propel us forward," commented Howard Mahran, CEO and Founder of Deep Domain. "With Brian on-board, I expect to see a near immediate impact on our business growth and new opportunities."
About Deep Domain
Headquartered in Redmond, Washington, Deep Domain is an innovative healthcare information company that provides healthcare organizations of all sizes with a cost-effective software solution that automates EHR clinical, financial and quality reporting. Deep Domain's reporting software reduces costs, enhances work efficiencies, and fosters better patient outcomes. Customers include Swedish Medical Center, Geisinger Health System, and Evergreen Medical Center. For more information, visit Deep Domain at http://www.deepdomain.com.