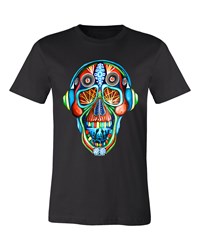 Our new lines was personally created for our customers, or as we call them, our 'Basswimmer Family'.
Washington, D.C. (PRWEB) August 21, 2013
After much anticipation from customers and electronic dance music fans across the globe, rave apparel company Basswimmer has officially launched their new clothing line and website. The rave gear and apparel company based out of the Washington, D.C. metro area will now offer a wider selection of innovative designs and a more streamlined website for an enhanced customer experience.
The launch is just in time for fall electronic dance music festivals such as "Electric Zoo", "Life in Color", and the highly talked about "Tomorrowworld". Many of the new designs feature elements from prominent DJ's such as Nicky Romero and Tiesto. In addition, the new site coincides with the back to school season in order to meet the rising demand from college students across the country. Basswimmer executives also state that the company is committed to providing premium rave clothing and turning valued feedback from their customers into reality.
"We did a lot of listening in the weeks leading up to the launch." states Bryan Sartory, Basswimmer's Director of Marketing. "The engagement we had and continue to have with our customers via social media has been nothing short of spectacular. Our new line was personally created for our customers, or as we call them, our 'Basswimmer family'."
Over the past several weeks Basswimmer routinely posted previews of their latest designs and asked their fans for their opinion on the new line of rave apparel. One design in particular, referred to as "Inside EDM" by the company, has received an immense amount of praise. The design was made into a reality by a resident Miami, FL artist who works closely on collaborations with Basswimmer.
"Supporting up and coming artists is something we're passionate about," states Co-Founder Andres Garcia, "Developing a sense of community between the company, customers, and artists has always been a goal and we're excited to offer more designs like it."
The designs can be purchased on either t-shirts, tank tops, or crop tops and are available now through the company's website. Basswimmer also encourages people to connect with them through all of their social channels in order to provide a more personal experience.
About Basswimmer:
Basswimmer is an Electronic Dance Music and rave apparel company based out of Washington, D.C. It was founded by 3 long-time friends in early 2013 with the purpose of providing clothing to the ever growing Electronic Dance Music culture in North America. They currently produce and sell t-shirts, tank tops, light show equipment and other accessories through their online retail store. Basswimmer's motto, "Work Hard, Rage Harder" embodies their lifestyles as workaholics by day and revelers by night.