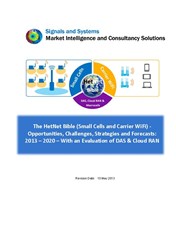 Rockville, MD (PRWEB) August 21, 2013
WiFi Enabled LTE Small Cell Gateway Forecasts: 2013 – 2020
Driven by large scale LTE investments and the high penetration of embedded WiFi capability in consumer electronic devices, both fixed and mobile, a number of wireless carriers are taking a keen interest in WiFi enabled LTE gateways. A WiFi enabled LTE small cell gateway (or base station) is an emerging network element, which has an LTE interface towards the carrier network and a WiFi interface towards the end user device. A vast majority of these base station deployments are likely to be in a small cell configuration.
Driven by infrastructure vendor commitments and demands from the wireless carrier community, SNS Research expects the installed base of WiFi enabled LTE small cell gateways to account for nearly 15 Million units by 2020, growing at a CAGR of nearly 122% between 2013 and 2020.
The "WiFi Enabled LTE Small Cell Gateway Forecasts: 2013 – 2020" excel datasheet presents detailed forecasts and growth rate projections on the installed base, unit shipments and revenue of WiFi enabled LTE gateways from 2013 till 2020. The forecasts are also segmented for the following regional submarkets:
-Asia Pacific
-Eastern Europe
-Latin & Central America
-Middle East & Africa
-North America
-Western Europe
The datasheet comes with a complimentary copy of SNS Research's "The HetNet Bible (Small Cells and Carrier WiFi) - Opportunities, Challenges, Strategies and Forecasts: 2013 - 2020 - With an Evaluation of DAS & Cloud RAN" report which includes detailed analysis and forecasts of the HetNet market. The report comprises over 434 pages and 262 figures.
To order this report:
WiFi Enabled LTE Small Cell Gateway Forecasts: 2013 – 2020
Contact: Shauna
800.298.5699
Customerservice(at)marketresearch(dot)com
About Signals and Systems Telecom
Signals and Systems Telecom provides market intelligence and turnkey outsourcing services covering the telecommunications industry sector. Developed by leading industry analysts our market forecast reports provide unique insights to the global telecommunication industry with information ranging from niche details of handset models to tracking of large network infrastructure contracts and cellular network operator metrics. Whether your focus is strategic planning, development, or marketing our reports allow you to make better decisions with self-assurance.
About MarketResearch.com
MarketResearch.com is the leading provider of global market intelligence products and services. With research reports from more than 720 top consulting and advisory firms, MarketResearch.com offers instant online access to the world's most extensive database of expert insights on global industries, companies, products, and trends. Moreover, MarketResearch.com's Research Specialists have in-depth knowledge of the publishers and the various types of reports in their respective industries and are ready to provide research assistance. For more information, call Cindy Frei at 240.747.3014 or visit http://www.marketresearch.com .
Follow us on Facebook http://www.facebook.com/marketresearchdotcom .
Follow us on Twitter http://www.twitter.com/marketresearch_ .
WiFi Enabled LTE Small Cell Gateway Forecasts: 2013 – 2020 – Table of Contents:
1 Chapter 1: Introduction
2 Chapter 2: An Overview of Small Cells & Carrier WiFi
3 Chapter 3: Integration & Offloading Technology
4 Chapter 4: Industry Roadmap and Value Chain
5 Chapter 5: Small Cells & Carrier WiFi Deployment Models
6 Chapter 6: Small Cells & Carrier WiFi Vertical Markets
7 Chapter 7: Small Cell Backhaul
8 Chapter 8: Standardization & Regulatory Initiatives
9 Chapter 9: Small Cell & Carrier WiFi Deployments
10 Chapter 10: 'Pure-Play' and Specialist Small Cell Vendors
11 Chapter 11: Distributed Antenna System (DAS) & Repeater Solution Providers
12 Chapter 12: Carrier WiFi Focused Vendors
13 Chapter 13: Cloud RAN Solution Providers
14 Chapter 14: HetNet Focussed SON Solution Providers
15 Chapter 15: Wireless Network (Macrocell, Core) Infrastructure Vendors
16 Chapter 16: Chipset, Software and Component Vendors
17 Chapter 17: Technology Providers
18 Chapter 18: WiFi Network Providers
19 Chapter 19: Small Cell Backhaul Solution Providers
20 Chapter 20: Market Analysis and Forecasts
21 Chapter 21: Conclusion and Strategic Recommendations
List of Figures
Figure 1: Global LTE Subscriptions by Region: 2010 – 2020 (Millions)
Figure 2: HetNet Architecture
Figure 3: Small Cell Coverage Range Comparison
Figure 4: Small Cell Characteristics & Comparison to Macrocells
Figure 5: Mobile Network Data Offloading via WiFi
Figure 6: Annual Global Throughput of Mobile Network Data Traffic by Region: 2010 – 2020 (Exabytes)
Figure 7: Annual Global Throughput of Mobile Network Data Traffic by Access Network Type (Macrocell, Small Cells, Carrier WiFi, DAS): 2010 – 2020 (Exabytes)
Figure 8: Global Distributed Antenna Systems (DAS) Spending: 2010 – 2020 ($ Billion)
Figure 9: Cloud RAN Architecture
Figure 10: Iuh based Small Cell Integration in a 3G Mobile Network
Figure 11: Iub based Small Cell Integration in a 3G Mobile Network
Figure 12: S1 Interface based Small Cell Integration in an LTE Network
Figure 13: Small Cells & Carrier WiFi Industry Roadmap: 2010 - 2020
Figure 14: Annual Global Throughput of Small Cells and Carrier WiFi Data Networks: 2010 – 2020 (Exabytes)
Figure 15: The Small Cells & Carrier WiFi Value Chain
Figure 16: SCaaS Provider and Wireless Carrier Responsibilities in a SCaaS Offering
Figure 17: Small Cell Forum's Scope
Figure 18: Small Cell Forum Working Groups
Figure 19: Global Small Cell & Carrier WiFi Installed Base: 2010 - 2020 (Millions of Units)
Figure 20: Global Small Cell & Carrier WiFi Installed Base Compared: 2010 - 2020 (Thousands of Units)
Figure 21: Small Cell & Carrier WiFi Installed Base by Region: 2010 - 2020 (Thousands of Units)
Figure 22: Global Small Cell & Carrier WiFi Unit Shipments: 2010 - 2020 (Millions of Units)
Figure 23: Global Small Cell & Carrier WiFi Unit Shipment Revenue: 2010 - 2020 ($ Million)
Figure 24: Global Small Cell & Carrier WiFi Unit Shipments Compared: 2010 - 2020 (Thousands of Units)
Figure 25: Global Small Cell & Carrier WiFi Unit Shipment Revenue Compared: 2010 - 2020 ($ Million)
Figure 26: Small Cell & Carrier WiFi Unit Shipments by Region: 2010 - 2020 (Thousands of Units)
Figure 27: Small Cell & Carrier WiFi Unit Shipment Revenue by Region: 2010 - 2020 ($ Million)
Figure 28: Global Small Cell & Carrier WiFi Data Service Revenue: 2010 - 2020 ($ Billion)
Figure 29: Global Small Cell & Carrier WiFi Data Service Revenue: 2010 - 2020 ($ Billion)
Figure 30: Small Cell & Carrier WiFi Data Service Revenue by Region: 2010 - 2020 ($ Billion)
Figure 31: Annual Global Throughput of Mobile Network Data Traffic over Small Cells: 2010 - 2020 (Exabytes)
Figure 32: Global Small Cell Installed Base: 2010 - 2020 (Thousands of Units)
Figure 33: Global Small Cell Installed Base by Cell Size (Femto, Pico, Micro): 2010 - 2020 (Thousands of Units)
Figure 34: Global Femtocell Installed Base: 2010 - 2020 (Thousands of Units)
Figure 35: Global Picocell Installed Base: 2010 - 2020 (Thousands of Units)
Figure 36: Global Microcell Installed Base: 2010 - 2020 (Thousands of Units)
Figure 37: Global Small Cell Installed Base by Deployment Model (Home/Residential, Enterprise, Metro, Rural): 2010 - 2020 (Thousands of Units)
Figure 38: Home/Residential Small Cell Installed Base: 2010 - 2020 (Thousands of Units)
Figure 39: Enterprise Small Cell Installed Base: 2010 - 2020 (Thousands of Units)
Figure 40: Metro Small Cell Installed Base: 2010 - 2020 (Thousands of Units)
Figure 41: Rural Small Cell Installed Base: 2010 - 2020 (Thousands of Units)
Figure 42: Global Small Cell Installed Base by Air Interface Technology Generation (2G, 3G, 4G): 2010 - 2020 (Thousands of Units)
Figure 43: 2G/3G (CDMA2000/GSM-WCDMA) Small Cell Installed Base: 2010 - 2020 (Thousands of Units)
Figure 44: 4G (LTE/WiMAX) Small Cell Installed Base: 2010 - 2020 (Thousands of Units)
Figure 45: Global Small Cell Installed Base by Air Interface Technology (GSM/W-CDMA/HSPA, CDMA2000/EV-DO, LTE FDD/TD-LTE, WiMAX): 2010 - 2020 (Thousands of Units)
Figure 46: GSM/W-CDMA/HSPA Small Cell Installed Base: 2010 - 2020 (Thousands of Units)
Figure 47: CDMA2000/EV-DO Small Cell Installed Base: 2010 - 2020 (Thousands of Units)
Figure 48: LTE FDD Small Cell Installed Base: 2010 - 2020 (Thousands of Units)
Figure 49: TD-LTE Small Cell Installed Base: 2010 - 2020 (Thousands of Units)
Figure 50: WiMAX Small Cell Installed Base: 2010 - 2020 (Thousands of Units)
Figure 51: Small Cell Installed Base by Region: 2010 - 2020 (Thousands of Units)
Figure 52: Global Small Cell Unit Shipments: 2010 - 2020 (Millions of Units)
Figure 53: Global Small Cell Unit Shipment Revenue: 2010 - 2020 ($ Million)
Figure 54: Global Small Cell Unit Shipments by Cell Size (Femto, Pico, Micro): 2010 - 2020 (Millions of Units)
Figure 55: Global Small Cell Unit Shipment Revenue by Cell Size (Femto, Pico, Micro): 2010 - 2020 ($ Million)
Figure 56: Global Femtocell Unit Shipments: 2010 - 2020 (Millions of Units)
Figure 57: Global Femtocell Unit Shipment Revenue: 2010 - 2020 ($ Million)
Figure 58: Global Picocell Unit Shipments: 2010 - 2020 (Millions of Units)
Figure 59: Global Picocell Unit Shipment Revenue: 2010 - 2020 ($ Million)
Figure 60: Global Microcell Unit Shipments: 2010 - 2020 (Millions of Units)
Figure 61: Global Microcell Unit Shipment Revenue: 2010 - 2020 ($ Million)
Figure 62: Global Small Cell Unit Shipments by Deployment Model (Residential, Enterprise, Metro, Rural): 2010 - 2020 (Thousands of Units)
Figure 63: Global Small Cell Unit Shipment Revenue by Deployment Model (Residential, Enterprise, Metro, Rural): 2010 - 2020 ($ Million)
Figure 64: Home/Residential Small Cell Unit Shipments: 2010 - 2020 (Thousands of Units)
Figure 65: Home/Residential Small Cell Unit Shipment Revenue: 2010 - 2020 ($ Million)
Figure 66: Enterprise Small Cell Unit Shipments: 2010 - 2020 (Thousands of Units)
Figure 67: Enterprise Small Cell Unit Shipment Revenue: 2010 - 2020 ($ Million)
Figure 68: Metro Small Cell Unit Shipments: 2010 - 2020 (Thousands of Units)
Figure 69: Metro Small Cell Unit Shipment Revenue: 2010 - 2020 ($ Million)
Figure 70: Rural Small Cell Unit Shipments: 2010 - 2020 (Thousands of Units)
Figure 71: Rural Small Cell Unit Shipment Revenue: 2010 - 2020 ($ Million)
Figure 72: Global Small Cell Unit Shipments by Air Interface Technology Generation (2G, 3G, 4G): 2010 - 2020 (Thousands of Units)
Figure 73: Global Small Cell Unit Shipment Revenue by Air Interface Technology Generation (2G, 3G, 4G): 2010 - 2020 ($ Million)
Figure 74: 2G/3G (CDMA2000/GSM/W-CDMA) Small Cell Unit Shipments: 2010 - 2020 (Thousands of Units)
Figure 75: 2G/3G (CDMA2000/GSM/W-CDMA) Small Cell Unit Shipment Revenue: 2010 - 2020 ($ Million)
Figure 76: 4G (LTE/WiMAX) Small Cell Unit Shipments: 2010 - 2020 (Thousands of Units)
Figure 77: 4G (LTE/WiMAX) Small Cell Unit Shipment Revenue: 2010 - 2020 ($ Million)
Figure 78: Global Small Cell Unit Shipments by Air Interface Technology (GSM/W-CDMA/HSPA, CDMA2000/EV-DO, LTE FDD, TD-LTE, WiMAX): 2010 - 2020 (Thousands of Units)
Figure 79: Global Small Cell Unit Shipment Revenue by Air Interface Technology (GSM/W-CDMA/HSPA, CDMA2000/EV-DO, LTE FDD, TD-LTE, WiMAX): 2010 - 2020 ($ Million)
Figure 80: GSM/W-CDMA/HSPA Small Cell Unit Shipments: 2010 - 2020 (Thousands of Units)
Figure 81: GSM/W-CDMA/HSPA Small Cell Unit Shipment Revenue: 2010 - 2020 ($ Million)
Figure 82: CDMA2000/EV-DO Small Cell Unit Shipments: 2010 - 2020 (Thousands of Units)
Figure 83: CDMA2000/EV-DO Small Cell Unit Shipment Revenue: 2010 - 2020 ($ Million)
Figure 84: LTE FDD Small Cell Unit Shipments: 2010 - 2020 (Thousands of Units)
Figure 85: LTE FDD Small Cell Unit Shipment Revenue: 2010 - 2020 ($ Million)
Figure 86: TD-LTE Small Cell Unit Shipments: 2010 - 2020 (Thousands of Units)
Figure 87: TD-LTE Small Cell Unit Shipment Revenue: 2010 - 2020 ($ Million)
Figure 88: WiMAX Small Cell Unit Shipments: 2010 - 2020 (Thousands of Units)
Figure 89: WiMAX Small Cell Unit Shipment Revenue: 2010 - 2020 ($ Million)
Figure 90: Small Cell Unit Shipments by Region: 2010 - 2020 (Thousands of Units)
Figure 91: Small Cell Unit Shipment Revenue by Region: 2010 - 2020 ($ Million)
Figure 92: Global Small Cell Mobile Data Service Revenue: 2010 - 2020 ($ Billion)
Figure 93: Small Cell Mobile Data Service Revenue by Region: 2010 - 2020 ($ Billion)
Figure 94: Annual Global Throughput of Mobile Network Data Traffic over Carrier WiFi: 2010 - 2020 (Exabytes)
Figure 95: Global Carrier WiFi Installed Base: 2010 - 2020 (Thousands of Units)
Figure 96: Global Carrier WiFi Installed Base by Equipment Type (Access Points, Access Point Controllers): 2010 - 2020 (Thousands of Units)
Figure 97: Global Carrier WiFi Access Point Installed Base: 2010 - 2020 (Thousands of Units)
Figure 98: Global Carrier WiFi Access Point Controller Installed Base: 2010 - 2020 (Thousands of Units)
Figure 99: Global Carrier WiFi Access Point Installed Base by Integration Approach (Managed WiFi Offload, Unmanaged 'Open Access' WiFi): 2010 - 2020 (Thousands of Units)
Figure 100: Managed WiFi Offload Access Point Installed Base: 2010 - 2020 (Thousands of Units)
Figure 101: Unmanaged 'Open Access' WiFi Access Point Installed Base: 2010 - 2020 (Thousands of Units)
Figure 102: Carrier WiFi Installed Base by Region: 2010 - 2020 (Thousands of Units)
Figure 103: Global Carrier WiFi Unit Shipments: 2010 - 2020 (Thousands of Units)
Figure 104: Global Carrier WiFi Unit Shipment Revenue: 2010 - 2020 ($ Million)
Figure 105: Global Carrier WiFi Unit Shipments by Equipment Type (Access Points, Access Point Controllers): 2010 - 2020 (Thousands of Units)
Figure 106: Global Carrier WiFi Unit Shipment Revenue by Equipment Type (Access Points, Access Point Controllers): 2010 - 2020 ($ Million)
Figure 107: Global Carrier WiFi Access Point Unit Shipments: 2010 - 2020 (Thousands of Units)
Figure 108: Global Carrier WiFi Access Point Unit Shipment Revenue: 2010 - 2020 ($ Million)
Figure 109: Global Carrier WiFi Access Point Controller Unit Shipments: 2010 - 2020 (Thousands of Units)
Figure 110: Global Carrier WiFi Access Point Controller Unit Shipment Revenue: 2010 - 2020 ($ Million)
Figure 111: Global Carrier WiFi Access Point Unit Shipments by Integration Approach (Managed WiFi Offload, Unmanaged 'Open Access' WiFi): 2010 - 2020 (Thousands of Units)
Figure 112: Global Carrier WiFi Access Point Unit Shipment Revenue by Integration Approach (Managed WiFi Offload, Unmanaged 'Open Access' WiFi): 2010 - 2020 ($ Million)
Figure 113: Global Managed WiFi Offload Access Point Unit Shipments: 2010 - 2020 (Thousands of Units)
Figure 114: Global Managed WiFi Offload Access Point Unit Shipment Revenue: 2010 - 2020 ($ Million)
Figure 115: Global Unmanaged 'Open Access' WiFi Access Point Unit Shipments: 2010 - 2020 (Thousands of Units)
Figure 116: Global Unmanaged 'Open Access' WiFi Access Point Unit Shipment Revenue: 2010 - 2020 ($ Million)
Figure 117: Carrier WiFi Unit Shipments by Region: 2010 - 2020 (Thousands of Units)
Figure 118: Carrier WiFi Unit Shipment Revenue by Region: 2010 - 2020 ($ Million)
Figure 119: Global Carrier WiFi Mobile Data Service Revenue: 2010 - 2020 ($ Billion)
Figure 120: Carrier WiFi Mobile Data Service Revenue by Region: 2010 - 2020 ($ Billion)
Figure 121: Global Small Cells as a Service (SCaaS) Revenue: 2010 - 2020 ($ Billion)
Figure 122: Small Cells as a Service (SCaaS) Revenue by Region: 2010 - 2020 ($ Billion)
Figure 123: Global Small Cell Backhaul Infrastructure Spending: 2010 - 2020 ($ Million)
Figure 124: Global Small Cell Backhaul Infrastructure Spending by Technology: 2010 - 2020 ($ Million)
Figure 125: Ethernet over Copper Small Cell Backhaul Infrastructure Spending: 2010 - 2020 ($ Million)
Figure 126: Ethernet over Fiber Small Cell Backhaul Infrastructure Spending: 2010 - 2020 ($ Million)
Figure 127: DSL Modems and DSLAMs Small Cell Backhaul Infrastructure Spending: 2010 - 2020 ($ Million)
Figure 128: NLOS Microwave (Below 6 GHz) Small Cell Backhaul Infrastructure Spending: 2010 - 2020 ($ Million)
Figure 129: PTP Microwave (6-60GHz) Small Cell Backhaul Infrastructure Spending: 2010 - 2020 ($ Million)
Figure 130: PTMP Microwave (6-60GHz) Small Cell Backhaul Infrastructure Spending: 2010 - 2020 ($ Million)
Figure 131: Millimeter Wave (Unlicensed 60GHz) Small Cell Backhaul Infrastructure Spending: 2010 - 2020 ($ Million)
Figure 132: Millimeter Wave (Licensed 71-76GHz, 81-86GHz) Small Cell Backhaul Infrastructure Spending: 2010 - 2020 ($ Million)
Figure 133: Satellite Based Small Cell Backhaul Infrastructure Spending: 2010 - 2020 ($ Million)
Figure 134: Small Cell Backhaul Infrastructure Spending by Region: 2010 - 2020 ($ Million)
Figure 135: Annual Global Throughput of Mobile Network Data Traffic over Distributed Antenna Systems (DAS): 2010 - 2020 (Exabytes)
Figure 136: Global Distributed Antenna Systems (DAS) Infrastructure Spending: 2010 - 2020 ($ Billion)
Figure 137: Distributed Antenna Systems (DAS) Infrastructure Spending by Region: 2010 - 2020 ($ Billion)
Figure 138: Global Cloud RAN Infrastructure Spending: 2010 - 2020 ($ Billion)
Figure 139: Cloud RAN Infrastructure Spending by Region: 2010 - 2020 ($ Million)
Figure 140: Global Self-Organizing Network (SON) Solution Spending: 2010 - 2020 ($ Billion)
Figure 141: Self-Organizing Network (SON) Solution Spending by Region: 2010 - 2020 ($ Million)
Figure 142: Global Mobile Network Data Service Revenue: 2010 - 2020 ($ Billion)
Figure 143: Global Mobile Network Data Service Revenue by Access Network Type (Macrocell, Small Cell, Carrier WiFi, DAS): 2010 - 2020 ($ Million)
Figure 144: Macrocell based Mobile Network Data Service Revenue: 2010 - 2020 ($ Billion)
Figure 145: Small Cell based Mobile Network Data Service Revenue: 2010 - 2020 ($ Billion)
Figure 146: Carrier WiFi based Mobile Network Data Service Revenue: 2010 - 2020 ($ Billion)
Figure 147: DAS based Mobile Network Data Service Revenue: 2010 - 2020 ($ Billion)
Figure 148: Mobile Network Data Service Revenue by Region: 2010 - 2020 ($ Million)
Figure 149: Annual Global Throughput of Mobile Network Data Traffic in North America: 2010 – 2020 (Exabytes)
Figure 150: Mobile Network Data Service Revenue in North America: 2010 - 2020 ($ Million)
Figure 151: Small Cell & Carrier WiFi Installed Base in North America: 2010 - 2020 (Thousands of Units)
Figure 152: Small Cell & Carrier WiFi Unit Shipments in North America: 2010 - 2020 (Thousands of Units)
Figure 153: Small Cell & Carrier WiFi Unit Shipment Revenue in North America: 2010 - 2020 ($ Million)
Figure 154: Small Cell & Carrier WiFi Data Service Revenue in North America: 2010 - 2020 ($ Billion)
Figure 155: Small Cell Installed Base in North America: 2010 - 2020 (Thousands of Units)
Figure 156: Small Cell Unit Shipments in North America: 2010 - 2020 (Thousands of Units)
Figure 157: Small Cell Unit Shipment Revenue in North America: 2010 - 2020 ($ Million)
Figure 158: Small Cell Mobile Data Service Revenue in North America: 2010 - 2020 ($ Billion)
Figure 159: Carrier WiFi Installed Base in North America: 2010 - 2020 (Thousands of Units)
Figure 160: Carrier WiFi Unit Shipments in North America: 2010 - 2020 (Thousands of Units)
Figure 161: Carrier WiFi Unit Shipment Revenue in North America: 2010 - 2020 ($ Million)
Figure 162: Carrier WiFi Mobile Data Service Revenue in North America: 2010 - 2020 ($ Billion)
Figure 163: Small Cells as a Service (SCaaS) Revenue in North America: 2010 - 2020 ($ Billion)
Figure 164: Small Cell Backhaul Infrastructure Spending in North America: 2010 - 2020 ($ Million)
Figure 165: Distributed Antenna Systems (DAS) Infrastructure Spending in North America: 2010 - 2020 ($ Billion)
Figure 166: Cloud RAN Infrastructure Spending in North America: 2010 - 2020 ($ Million)
Figure 167: Self-Organizing Network (SON) Solution Spending in North America: 2010 - 2020 ($ Million)
Figure 168: Annual Global Throughput of Mobile Network Data Traffic in Asia Pacific: 2010 – 2020 (Exabytes)
Figure 169: Mobile Network Data Service Revenue in Asia Pacific: 2010 - 2020 ($ Million)
Figure 170: Small Cell & Carrier WiFi Installed Base in Asia Pacific: 2010 - 2020 (Thousands of Units)
Figure 171: Small Cell & Carrier WiFi Unit Shipments in Asia Pacific: 2010 - 2020 (Thousands of Units)
Figure 172: Small Cell & Carrier WiFi Unit Shipment Revenue in Asia Pacific: 2010 - 2020 ($ Million)
Figure 173: Small Cell & Carrier WiFi Data Service Revenue in Asia Pacific: 2010 - 2020 ($ Billion)
Figure 174: Small Cell Installed Base in Asia Pacific: 2010 - 2020 (Thousands of Units)
Figure 175: Small Cell Unit Shipments in Asia Pacific: 2010 - 2020 (Thousands of Units)
Figure 176: Small Cell Unit Shipment Revenue in Asia Pacific: 2010 - 2020 ($ Million)
Figure 177: Small Cell Mobile Data Service Revenue in Asia Pacific: 2010 - 2020 ($ Billion)
Figure 178: Carrier WiFi Installed Base in Asia Pacific: 2010 - 2020 (Thousands of Units)
Figure 179: Carrier WiFi Unit Shipments in Asia Pacific: 2010 - 2020 (Thousands of Units)
Figure 180: Carrier WiFi Unit Shipment Revenue in Asia Pacific: 2010 - 2020 ($ Million)
Figure 181: Carrier WiFi Mobile Data Service Revenue in Asia Pacific: 2010 - 2020 ($ Billion)
Figure 182: Small Cells as a Service (SCaaS) Revenue in Asia Pacific: 2010 - 2020 ($ Billion)
Figure 183: Small Cell Backhaul Infrastructure Spending in Asia Pacific: 2010 - 2020 ($ Million)
Figure 184: Distributed Antenna Systems (DAS) Infrastructure Spending in Asia Pacific: 2010 - 2020 ($ Billion)
Figure 185: Cloud RAN Infrastructure Spending in Asia Pacific: 2010 - 2020 ($ Million)
Figure 186: Self-Organizing Network (SON) Solution Spending in Asia Pacific: 2010 - 2020 ($ Million)
Figure 187: Annual Global Throughput of Mobile Network Data Traffic in Western Europe: 2010 – 2020 (Exabytes)
Figure 188: Mobile Network Data Service Revenue in Western Europe: 2010 - 2020 ($ Million)
Figure 189: Small Cell & Carrier WiFi Installed Base in Western Europe: 2010 - 2020 (Thousands of Units)
Figure 190: Small Cell & Carrier WiFi Unit Shipments in Western Europe: 2010 - 2020 (Thousands of Units)
Figure 191: Small Cell & Carrier WiFi Unit Shipment Revenue in Western Europe: 2010 - 2020 ($ Million)
Figure 192: Small Cell & Carrier WiFi Data Service Revenue in Western Europe: 2010 - 2020 ($ Billion)
Figure 193: Small Cell Installed Base in Western Europe: 2010 - 2020 (Thousands of Units)
Figure 194: Small Cell Unit Shipments in Western Europe: 2010 - 2020 (Thousands of Units)
Figure 195: Small Cell Unit Shipment Revenue in Western Europe: 2010 - 2020 ($ Million)
Figure 196: Small Cell Mobile Data Service Revenue in Western Europe: 2010 - 2020 ($ Billion)
Figure 197: Carrier WiFi Installed Base in Western Europe: 2010 - 2020 (Thousands of Units)
Figure 198: Carrier WiFi Unit Shipments in Western Europe: 2010 - 2020 (Thousands of Units)
Figure 199: Carrier WiFi Unit Shipment Revenue in Western Europe: 2010 - 2020 ($ Million)
Figure 200: Carrier WiFi Mobile Data Service Revenue in Western Europe: 2010 - 2020 ($ Billion)
Figure 201: Small Cells as a Service (SCaaS) Revenue in Western Europe: 2010 - 2020 ($ Billion)
Figure 202: Small Cell Backhaul Infrastructure Spending in Western Europe: 2010 - 2020 ($ Million)
Figure 203: Distributed Antenna Systems (DAS) Infrastructure Spending in Western Europe: 2010 - 2020 ($ Billion)
Figure 204: Cloud RAN Infrastructure Spending in Western Europe: 2010 - 2020 ($ Million)
Figure 205: Self-Organizing Network (SON) Solution Spending in Western Europe: 2010 - 2020 ($ Million)
Figure 206: Annual Global Throughput of Mobile Network Data Traffic in Eastern Europe: 2010 – 2020 (Exabytes)
Figure 207: Mobile Network Data Service Revenue in Eastern Europe: 2010 - 2020 ($ Million)
Figure 208: Small Cell & Carrier WiFi Installed Base in Eastern Europe: 2010 - 2020 (Thousands of Units)
Figure 209: Small Cell & Carrier WiFi Unit Shipments in Eastern Europe: 2010 - 2020 (Thousands of Units)
Figure 210: Small Cell & Carrier WiFi Unit Shipment Revenue in Eastern Europe: 2010 - 2020 ($ Million)
Figure 211: Small Cell & Carrier WiFi Data Service Revenue in Eastern Europe: 2010 - 2020 ($ Billion)
Figure 212: Small Cell Installed Base in Eastern Europe: 2010 - 2020 (Thousands of Units)
Figure 213: Small Cell Unit Shipments in Eastern Europe: 2010 - 2020 (Thousands of Units)
Figure 214: Small Cell Unit Shipment Revenue in Eastern Europe: 2010 - 2020 ($ Million)
Figure 215: Small Cell Mobile Data Service Revenue in Eastern Europe: 2010 - 2020 ($ Billion)
Figure 216: Carrier WiFi Installed Base in Eastern Europe: 2010 - 2020 (Thousands of Units)
Figure 217: Carrier WiFi Unit Shipments in Eastern Europe: 2010 - 2020 (Thousands of Units)
Figure 218: Carrier WiFi Unit Shipment Revenue in Eastern Europe: 2010 - 2020 ($ Million)
Figure 219: Carrier WiFi Mobile Data Service Revenue in Eastern Europe: 2010 - 2020 ($ Billion)
Figure 220: Small Cells as a Service (SCaaS) Revenue in Eastern Europe: 2010 - 2020 ($ Billion)
Figure 221: Small Cell Backhaul Infrastructure Spending in Eastern Europe: 2010 - 2020 ($ Million)
Figure 222: Distributed Antenna Systems (DAS) Infrastructure Spending in Eastern Europe: 2010 - 2020 ($ Billion)
Figure 223: Cloud RAN Infrastructure Spending in Eastern Europe: 2010 - 2020 ($ Million)
Figure 224: Self-Organizing Network (SON) Solution Spending in Eastern Europe: 2010 - 2020 ($ Million)
Figure 225: Annual Global Throughput of Mobile Network Data Traffic in Middle East & Africa: 2010 – 2020 (Exabytes)
Figure 226: Mobile Network Data Service Revenue in Middle East & Africa: 2010 - 2020 ($ Million)
Figure 227: Small Cell & Carrier WiFi Installed Base in Middle East & Africa: 2010 - 2020 (Thousands of Units)
Figure 228: Small Cell & Carrier WiFi Unit Shipments in Middle East & Africa: 2010 - 2020 (Thousands of Units)
Figure 229: Small Cell & Carrier WiFi Unit Shipment Revenue in Middle East & Africa: 2010 - 2020 ($ Million)
Figure 230: Small Cell & Carrier WiFi Data Service Revenue in Middle East & Africa: 2010 - 2020 ($ Billion)
Figure 231: Small Cell Installed Base in Middle East & Africa: 2010 - 2020 (Thousands of Units)
Figure 232: Small Cell Unit Shipments in Middle East & Africa: 2010 - 2020 (Thousands of Units)
Figure 233: Small Cell Unit Shipment Revenue in Middle East & Africa: 2010 - 2020 ($ Million)
Figure 234: Small Cell Mobile Data Service Revenue in Middle East & Africa: 2010 - 2020 ($ Billion)
Figure 235: Carrier WiFi Installed Base in Middle East & Africa: 2010 - 2020 (Thousands of Units)
Figure 236: Carrier WiFi Unit Shipments in Middle East & Africa: 2010 - 2020 (Thousands of Units)
Figure 237: Carrier WiFi Unit Shipment Revenue in Middle East & Africa: 2010 - 2020 ($ Million)
Figure 238: Carrier WiFi Mobile Data Service Revenue in Middle East & Africa: 2010 - 2020 ($ Billion)
Figure 239: Small Cells as a Service (SCaaS) Revenue in Middle East & Africa: 2010 - 2020 ($ Billion)
Figure 240: Small Cell Backhaul Infrastructure Spending in Middle East & Africa: 2010 - 2020 ($ Million)
Figure 241: Distributed Antenna Systems (DAS) Infrastructure Spending in Middle East & Africa: 2010 - 2020 ($ Billion)
Figure 242: Cloud RAN Infrastructure Spending in Middle East & Africa: 2010 - 2020 ($ Million)
Figure 243: Self-Organizing Network (SON) Solution Spending in Middle East & Africa: 2010 - 2020 ($ Million)
Figure 244: Annual Global Throughput of Mobile Network Data Traffic in Latin & Central America: 2010 – 2020 (Exabytes)
Figure 245: Mobile Network Data Service Revenue in Latin & Central America: 2010 - 2020 ($ Million)
Figure 246: Small Cell & Carrier WiFi Installed Base in Latin & Central America: 2010 - 2020 (Thousands of Units)
Figure 247: Small Cell & Carrier WiFi Unit Shipments in Latin & Central America: 2010 - 2020 (Thousands of Units)
Figure 248: Small Cell & Carrier WiFi Unit Shipment Revenue in Latin & Central America: 2010 - 2020 ($ Million)
Figure 249: Small Cell & Carrier WiFi Data Service Revenue in Latin & Central America: 2010 - 2020 ($ Billion)
Figure 250: Small Cell Installed Base in Latin & Central America: 2010 - 2020 (Thousands of Units)
Figure 251: Small Cell Unit Shipments in Latin & Central America: 2010 - 2020 (Thousands of Units)
Figure 252: Small Cell Unit Shipment Revenue in Latin & Central America: 2010 - 2020 ($ Million)
Figure 253: Small Cell Mobile Data Service Revenue in Latin & Central America: 2010 - 2020 ($ Billion)
Figure 254: Carrier WiFi Installed Base in Latin & Central America: 2010 - 2020 (Thousands of Units)
Figure 255: Carrier WiFi Unit Shipments in Latin & Central America: 2010 - 2020 (Thousands of Units)
Figure 256: Carrier WiFi Unit Shipment Revenue in Latin & Central America: 2010 - 2020 ($ Million)
Figure 257: Carrier WiFi Mobile Data Service Revenue in Latin & Central America: 2010 - 2020 ($ Billion)
Figure 258: Small Cells as a Service (SCaaS) Revenue in Latin & Central America: 2010 - 2020 ($ Billion)
Figure 259: Small Cell Backhaul Infrastructure Spending in Latin & Central America: 2010 - 2020 ($ Million)
Figure 260: Distributed Antenna Systems (DAS) Infrastructure Spending in Latin & Central America: 2010 - 2020 ($ Billion)
Figure 261: Cloud RAN Infrastructure Spending in Latin & Central America: 2010 - 2020 ($ Million)
Figure 262: Self-Organizing Network (SON) Solution Spending in Latin & Central America: 2010 - 2020 ($ Million)