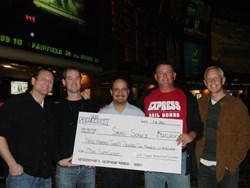 The SuperContest is a part of Las Vegas sports and gaming history.
Las Vegas, Nevada (PRWEB) August 20, 2013
As Vegas golfers and football fans probably know, next Friday and Saturday, August 23rd and 24th, kick off the 2nd Annual LVH SuperContest Weekend. This prestigious NFL handicapping contest, known as The Supercontest, is projected to receive more than 800 entries valued at $1,500 each – that means that the prize pool will likely exceed 1.2 million dollars. The winner is expected to take home $400,000 plus – a whopping 35% of the total purse.
Though the SuperContest has been held for several decades, this is only the second time it has been surrounded by a SuperContest Weekend. The idea was born when Brady Kannon, the president of Vegas golf booking company BK's Golf Services, won the 2011 SuperContest. "After winning in 2011, I felt a golf tournament and kick off weekend would be a great way to promote the hotel, the contest, BK's Golf Services, and the excitement football fans have for a weekend pertaining to such in Las Vegas. I was so thrilled to have won and I didn't want the party to end there," he says. He got together with Jay Kornegay, the Vice President of the LVH Race & Sportsbook, and together they organized a golf tournament, the handicapping contest, some special guests, new raffles and prizes, food vendors, and much more. The idea really took off last year, when the SuperContest saw a record number of entries – 745, to be exact – and the prize pool broke $1 million.
"The SuperContest is a part of Las Vegas sports and gaming history. It's been the most prestigious NFL handicapping contest in the world – all the who's who of professional bettors in town participate in this contest," says Kannon. "Now we have another tradition brewing as we gear up for our second annual SuperContest Weekend." The weekend will consist of a Super Handicapping Seminar, the Super Golf Outing, a reception at Ballroom E, a raffle for a free SuperContest entry, tons of big-name special guests, and lots of other fun for Vegas sports fans to partake in.
BK's Golf Services is a Las Vegas tee time booking company that makes it their mission to match the golfer to the course. The professionals of the company have a combined 35 years of experience and diligently keep track of golf specials, discounts, starting times, hotels, and more to be able to comprehensively answer questions and put together vacation packages.